At 10x Travel our mission has always been to help more people travel the world.
We're proud that over the years, our goal to help ambitious tour operators grow their businesses with more effective sales and marketing has contributed to that.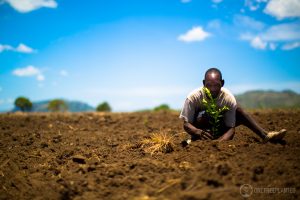 But over time we realised there's something else we needed to do too…
The 10x Travel team has always believed in promoting fair, sustainable travel that minimizes the impact of tourism on the environment.
So we've partnered with the environmental charity One Tree Planted to give something back to the environment, help fight the climate crisis and increase reforestation around the world.
We're making a simple but clear commitment:
From August 2019, 10x Travel will plant at least one tree for every booking we assist for each of our tour operator partners.
So from bike rides to boat tours, from ski weekends to volcano adventures…
For every new sale with our Get More Bookings sales system, one or more trees will be planted to help minimize the impact of global warming on our planet. And we've targeted the planting of 100,000 trees as our first milestone.
Why are we making this commitment?
Our vision is to promote fair, sustainable travel that preserves the natural and cultural heritage of the travel destinations we serve – whilst broadening the minds of travellers.
One Tree Planted is a US-based non-profit organization doing important work: planting and maintaining trees across North America, South America, Asia and Africa.
It costs just $1 to plant a tree via their reforestation partners, making it a simple way for a business to donate and see the positive impact they can have.
According to the UN's most recent report "our planet is on track to warm more than 1.5 degrees Celsius, which it will do as soon as 2040, if current trends continue."
If left unchecked, this situation will lead to widespread devastation…
"Nearly all coral reefs will die out, wildfires and heat waves will sweep across the planet annually, and the interplay between drought and flooding and temperature will mean that the world's food supply would become dramatically less secure."
As part of the travel industry, we believe it's our duty to help offset the impact of tourism on the environment
10x Travel doesn't sell flights, and nor do the vast majority of our tour operator partners. But we do want to recognise and take responsibility for the fact that our work indirectly encourages and enables air travel.
Why Trees?
The positive effects trees have on our planet's ecosystem have never been in sharper focus than right now. Scientists believe tree planting has "mind-blowing potential" and that new research shows it's "by far the biggest and cheapest way to tackle the climate crisis".
Strategic tree planting projects like those promoted by One Tree Planted remove carbon from the atmosphere, helping reverse the effects of the global climate crisis.
(The One Tree Planted website shares all the incredible benefits trees have on our environment and culture.)
Now more than ever, businesses like yours and ours are making a difference
Major brands like Netflix, Adidas and WeWork have all made donations to One Tree Planted.
Similarly, companies like For The Love Of Travel, Trafalgar Travel and African Travel Inc. have become reforestation partners, and demonstrated that they're focused on more than just profit.
The impact of your CSR initiatives on your company's reputation can also boost your bottom line
Consumers everywhere are more informed than ever about the environmental impact of their purchases and the businesses they support, resulting in a "shop-around" culture.
So what better way to cut through the noise than by making a pledge to plant more trees or standing up for issues your ideal clients care about?
Not only do you get the satisfaction of doing good work, but you're also communicating an extra reason for people to consider your services as a worthwhile investment.
How your tour operator business can take an important stand
Here at 10x Travel, we want to ignite a movement that unites the incredible organizations we work with which is why our new mission is this:
To help more people travel the world. Sustainably.
This seemingly small change to our mission statement aims to mobilize our tour operator partners around this cause, and to encourage them to do more to neutralize the negative environmental effects of tourism.
Would you like to join us in our mission?
If you're interested in learning more about how your business can make a difference by encouraging sustainable travel, or about joining us in the tree planting movement, drop me a line at: max (dot) hardy (at) 10x.travel. Read the full article here.
Contributing members are responsible for the accuracy of content contributed to the Member News section of AdventureTravelNews.