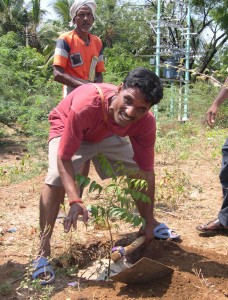 Toronto, ON – Planeterra, the global non-profit sustainable development organization, is engaging individuals around the world to help preserve the Atlantic Rainforest of Brazil ("Mata Atlântica" in Portuguese). By raising awareness for its Community Reforestation Project and funds to plant thousands of new trees, Planeterra hopes to help stabilize the remaining 7% of rainforests, which just a few hundred years ago spanned hundreds of miles north-to-south along Brazil's Atlantic shore, reaching west to the Amazon jungle.
Three key tactics are being employed through Planeterra's Brazil Community Reforestation Project to help reverse this trend before it is too late. They involve the areas of improved agricultural production, enhanced plant nutrition, and conservation of soil and water resources.
It is Planeterra's goal to help enable people from local communities to earn an income from first preserving and then managing forests sustainably. Outside contributions are critical to successfully carry out these initiatives.
"Individuals can get involved and play a key role by providing critical financing for this important project. We met our Earth Month goal of $5,000, but there's still a long way to go to protect this environment and the community," said Paula Vlamings, Associate Director for Planeterra.
Contributions support the planting of trees at $100 per 1,000 trees and help supply farmers with seeds and the knowledge to practice sustainable agriculture and soil conservation while improving forest health. Individuals can donate online by visiting http://www.planeterra.org/pages/projects/19.php?id=34.
"In 2010 the International Monetary Fund ranked Brazil the 7th richest country in the world in terms of GDP, but millions of people in this country live at or below subsistence level – a level that too often means stripping away more forest and fertility to survive," said Vlamings. The result is centuries of low agricultural production, rural poverty and environmental destruction.
"We think that by communicating and helping implement agro forestry techniques we can stave off overgrazing and deforestation of waterways that would further erode the remaining 7 percent of the forest," Vlamings said.
Forty percent of South America's 20,000 tropical plant species are endemic to this forest. Soil cleared and cultivated for farming loses its fertility in two decades or less, requiring the farmer to clear more land to maintain his level of income. Expansions of Rio de Janeiro and Sao Paulo also add to the pressures of centuries of sugarcane and coffee plantations that ultimately result in loss of habitat and forest. What remains of this rainforest harbors nearly 70% of the vertebrate species classified as endangered in Brazil.
In 2003 Gap Adventures founder Bruce Poon Tip established the non-profit Planeterra to create opportunities for Gap Adventures' travelers and community to "give back" to the communities they visit. On Friday, April 29 Gap Adventures staff held a potluck fundraiser for Planeterra's Brazil Community Reforestation Project and raised enough from staff donations to help the organization meet its Earth Month goal.
Contributing members are responsible for the accuracy of content contributed to the Member News section of AdventureTravelNews.