On 9 May, Wilderness Holdings Limited officially joined the Zeitz Foundation's Long Run Initiative and became the first Long Run Supporter in the tourism industry and in Africa.
Founded in 2008 by business entrepreneur Jochen Zeitz, Chairman and CEO of PUMA AG and Chief Sustainability Officer (CSO) of PPR, the Zeitz Foundation is a non-profit organisation headquartered in Kenya and with representation in the United States, Germany and the United Kingdom.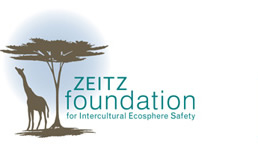 The Foundation promotes an innovative approach to sustainable ecosystem management which aims to achieve sustainability through a balance of Conservation, Community, Culture and Commerce. This 4Cs framework has strong resonance with Wilderness and our sustainable tourism philosophy and has been adopted and will be rolled out throughout our operation. It is also the framework that will be employed for future reporting by the company.
The Long Run is an approach to life geared at acting today for a better tomorrow through actions reaching out into every aspect of life.
"Wilderness Holdings is a significant ally for The Long Run Initiative," says Jochen Zeitz, Founder of the Zeitz Foundation, Chairman and CEO of PUMA, and Chief Sustainability Officer of PPR. "As the owner and operator of numerous iconic sustainable tourism brands and destinations across Africa, Wilderness Holdings is setting a precedent for others in the industry to follow responsible and sustainable tourism practices. Welcoming our first African Long Run Supporter is an exciting addition for us," he added.
Long Run Supporters are organisations that share the Zeitz Foundation's drive to support sustainable, ecologically and socially responsible projects around the world, and have demonstrated their commitment by signing the Long Run Charter, a declaration of intent and commitment to promoting more sustainable lifestyle choices and to building a sustainable future.
"The reason Wilderness exists is to conserve pristine wilderness areas and the flora and fauna – the biodiversity – that they support. We believe that in conserving these areas, and including the local communities in this process, we will make a difference to Africa and ultimately the world," said Andy Payne, Wilderness Holdings CEO. "Our planet would be a dull place without both cultural and biological diversity; so by joining The Long Run, we hope to spread the message that sustainable business operations are critical to long term success."
Contributing members are responsible for the accuracy of content contributed to the Member News section of AdventureTravelNews.