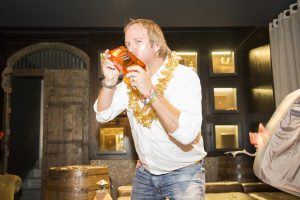 The Ultimate Tribe is proud to announce that we have been honored with the We are Africa "Experience Award" for our Giraffe Conservation Safari. This prestigious accolade was presented at the WAA trade show in Cape Town on the 2nd of May 2017, and Tristan Cowley received the award on our behalf.  The list of short-listed nominees was of the highest caliber and, after being runner-up for three consecutive years, we were ecstatic to receive this recognition.
Message from Tristan Cowley: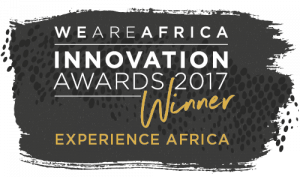 "Truly one of the most humbling experiences ever. Just being a finalist, and we have been one for three years running, is an immense honor in the company of those who are probably the most influential people in the industry of African tourism. Winning is one of those surreal experiences you can hardly believe, and is a tribute to the most remarkable tribe of  individuals we have at Ultimate Safaris who continue to drive our quest to make a difference for our country NAMIBIA! To the Ultimate tribe, this is on you and you are making an amazing impact and I am so proud and privileged to be part of this.  Namibia, we salute you, especially as you don't always get the recognition you deserve!"
We also want, wholeheartedly, to thank all our valued partners who support our conservation safaris, and we are especially delighted about the recognition the Giraffe Conservation Foundation has now received for their tireless dedication towards the protection of Africa's giraffe populations. 
Ultimate Safaris Namibia: Saving Africa's Giraffe from the Silent Extinction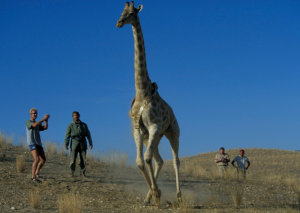 Giraffe numbers have plummeted from 140,000 in the late 1990s to less than 80,000 today. In the past 30 years, giraffe have become extinct in at least 7 African countries. This dramatic loss has gone largely unnoticed – a silent extinction. The main threats are habitat loss, habitat fragmentation, disease and, increasingly, illegal hunting/poaching. At the crux of all this is human population growth in Africa and the demand for land. This GIRAFFE CONSERVATION – 'Saving Africa's giraffe from the silent extinction' focussed safari affords guest the opportunity to spend time with Dr Julian Fennessey of the Giraffe Conservation Foundation (GCF) in Namibia's remote North West. Julian is considered Africa's authority on giraffe and giraffe conservation, and orchestrates the perfect themed safari, ranging from giraffe ecology and conservation to misconceptions regarding these highly threatened animals.
The highlight of the safari is spending time in field with Julian, giraffe conservationists and vets, whilst partaking in a complex giraffe collaring operation, which is necessary for research and monitoring. Giraffe are immobilized and fitted with radio collars, guests forming an integral part of the ground team during this operation. This safari also focuses on a number of other conservation projects, including the AfriCat Foundation and Save the Rhino Trust. Hugely pertinent to conservation in Africa at the moment, this safari promises to engage, educate and encourage guest participation in becoming part of the solution, whilst raising ZAR 250,000.00 per departure for the GCF. A life enriching experience and more than likely an once-in-a-lifetime opportunity.
Contributing members are responsible for the accuracy of content contributed to the Member News section of AdventureTravelNews.