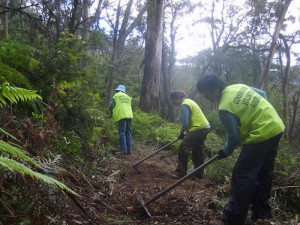 The Sydney Morning Herald reported last month that levels of voluntourism in the country are on the rise. Reporter Mark Russel noted:

Conservation Volunteers Australia says voluntourism is one of its fastest growing sectors. About 10,000 Australians join its programs each year.

"For people who enjoy connecting with nature and holidays with a difference, a champagne sunset dinner before heading out to assist with turtle research, or booking out your own private island and assisting a park ranger with penguin monitoring … is an attractive honeymoon or travel experience," company spokeswoman Joanne Davies said.
The article also explored both local critics of the volunteer travel trend as well as those who acknowledge the good they can do while offering travelers a unique experience as long as they are designed and run responsibly:
'I cannot emphasise enough just how important it is for volunteer trips to be based on a real, genuine local need and work in partnership with local people," responsibletravel.com's Krissy Roe said. "Projects that have been dreamed up by a marketing department and have not been requested by the local community can do more harm than good."
Read the entire article, Travellers with a conscience venture beyond the holiday