Collaborative learning and interactive workshops allowed delegates to engage with keynote speakers and panel participants at the Adventure Travel Trade Association's (ATTA) AdventureELEVATE event, held 12-13 April 2017 at the Coeur d'Alene Resort in Idaho.
The two days of productive, in-depth conference material were preceded by Day of Adventures in a crisp and sunny Idaho. Delegates took part in a variety of outdoor activities the state has to offer, including kayaking on Lake Coeur d'Alene, hiking, rafting the Spokane River, and cycling. The adventures were provided by longtime ATTA member, ROW Adventures, which also sent several delegates to attend the conference to access the education and networking opportunities at AdventureELEVATE.
The third-annual AdventureELEVATE theme of Future Together was palpable. Delegates were poised not just to improve their own businesses, but to foster new partnerships and develop professional relationships meant to steer the North American industry toward a sustainable and impactful manifest destiny.
"People here are obviously very passionate. You can pull your head out and start to realize that there are people here that are thinking differently and outside the box — and one can learn a lot from them," said the event's first keynote speaker Darvin Ayre, a strategy, leadership, and management consultant who has worked with a number of outdoor-related businesses. During his keynote address, he challenged delegates' business strategies, stating "the decisions you make, the strategies you create in your business are going to impact each and every one in this room."
In response to questions posed by Ayre, delegates discussed topics related to charting the industry's future together and shared their live feedback, which was shown on a screen as a way to identify common themes. The results, including an overwhelming sense to address nature/environmental conservation and tolerance for other cultures as well as barriers in the industry, helped set the stage for a productive and impactful event.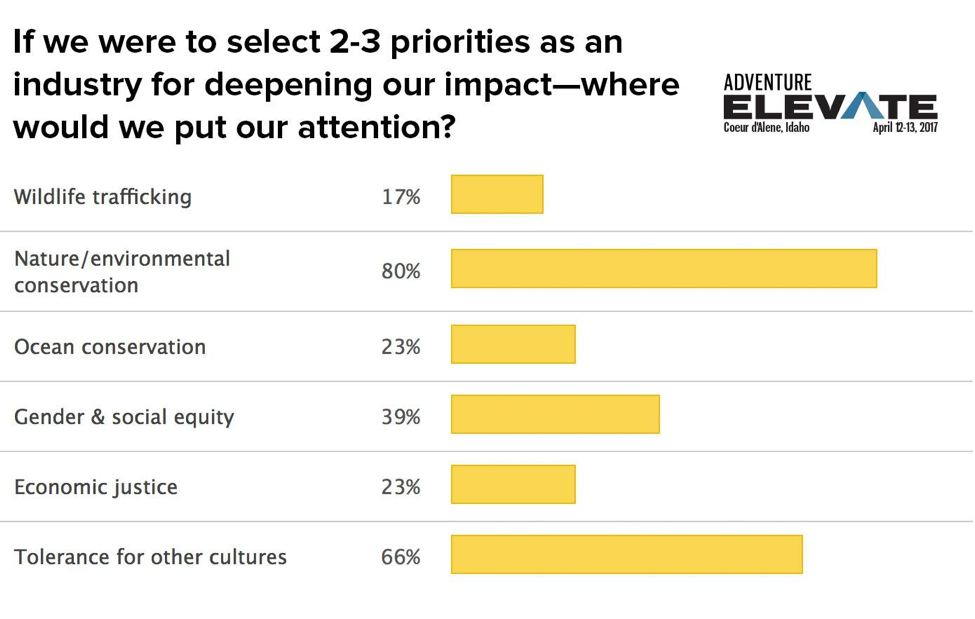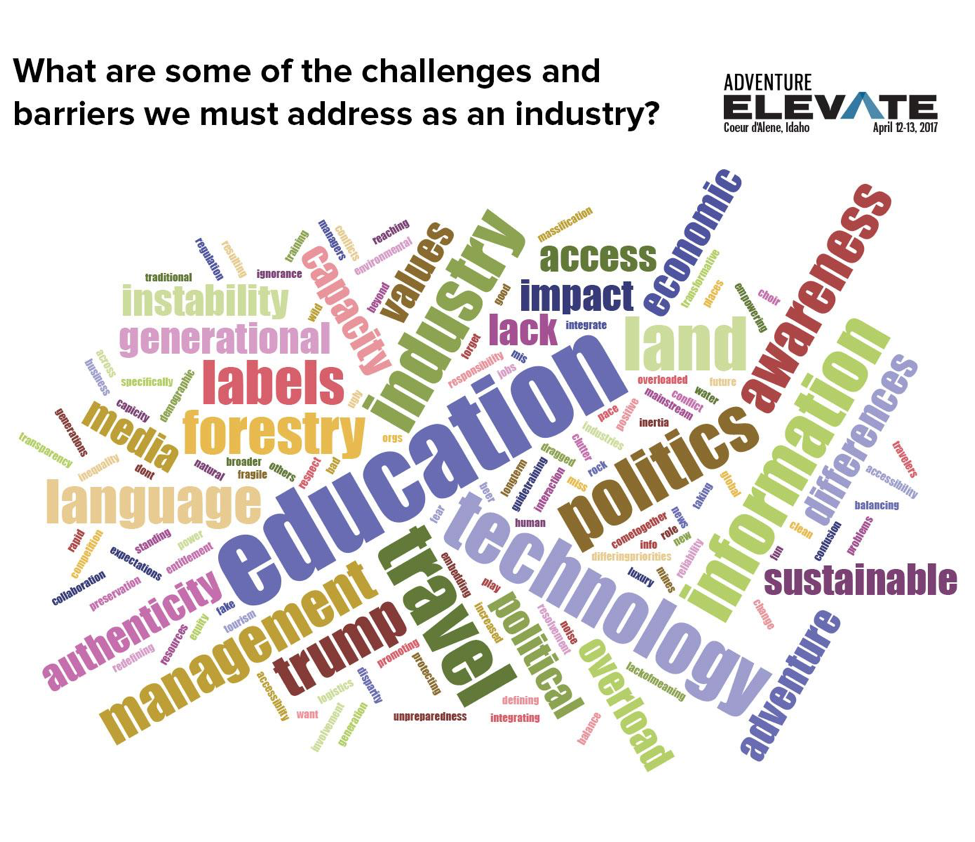 The Adventure's Future with Indigenous Communities session emphasized how adventure tourism leaders can work with indigenous communities, with two perspectives from the indigenous community, Dené Sinclair from British Columbia and Quanah Matheson from Idaho. "It's important for adventure operators to work closely with indigenous communities and understand the benefits that they are looking for," said Sinclair, who represents the Aboriginal Tourism Association of Canada. "It's not necessarily economic incentives but sometimes it's just a chance to tell their story in their own words."
Delegates tapped their innovation and problem-solving skills in Creative Leadership, led by Clark Scheffe of the renowned design firm IDEO. In the session, delegates learned techniques for brainstorming and product design. "Some of the methods around design research and having empathy for users is incredibly relevant to travelers," Scheffe said. "How are you going to design a great experience for travelers? The designers toolkit can be valuable for that."
After the first day of AdventureELEVATE, delegates boarded boats and motored across Lake Coeur d'Alene for the third edition of the Disruptive Networking Adventure (DNA), made possible by Switzerland and ExOfficio. Not only a time for Swiss fondue and free ExOfficio underwear, the DNA event has become a mainstay of ELEVATE because of its unique twist designed to encourage networking among people working in the industry.
Other AdventureELEVATE event elements, such as the MediaExchange, which connects media with tour operators and destinations through one-on-one meetings, also encouraged delegates to discuss industry issues and partnerships to elevate adventure travel as a whole. "One of the most valuable parts of this event has been meeting people who I really would never connect with elsewhere," said media delegate Jess McGlothlin. "To sit across the table and ask them what are the stories that need to be told in your space — that's something you really can't do over the phone or email."
Riding on the enthusiasm of AdventureELEVATE 2017, the ATTA's Russell Walters surprised delegates with an announcement of next year's AdventureELEVATE event, which will be held in Banff, Alberta, 12-15 March 2018. Many delegates signed up to attend on the spot, ensuring they'll continue to be part of the discussion on advancing the adventure travel industry's future together.