In line with their commitment to help preserve wild places through impact investments that have a positive impact on the environment and its custodians as already demonstrated at Huab Under Canvas, Ultimate Safaris introduce their newest venture, Sossus Under Canvas in the Greater Sossusvlei-Namib Landscape. Located on the private 24,000 hectare Neuhof Nature Reserve which is nestled between the Nubib and Zaris Mountains, this camp is a mere thirty minutes' drive from the Sossusvlei gate, the gateway to the Great Namib Sand Sea which has recently been declared a World Heritage Site.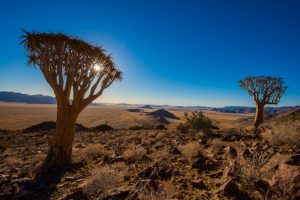 The Neuhof Nature Reserve was founded by Landscape Conservationist and Philanthropist Swen Bachran in 2010, and it serves as a natural buffer from the harshest desert conditions and a refuge that is vital to wildlife through the dry season. Eight years of intensive work to reverse sixty years of inappropriate farming practices, including the removal of 89 km of internal fencing, the installation of wildlife watering points, the improvement of road networks, the rehabilitation of land and the reintroduction of wildlife that historically occurred here, has resulted in one of the most picturesque and ecologically sound tracts of land in the area. Neuhof has gravel plains, mountainous areas with dry river valleys as well as a large raised plateau which towers above the desert below, and it is now home to some of largest concentrations of wildlife in the area, including Oryx, Springbok, Hartmann's Mountain Zebra, Burchell's Zebra, Kudu, Hartebeest, Giraffe, Steenbok, Klipspringer, Bat-eared Fox, and Aardwolf, as well as predators such as Leopard, Cheetah and Spotted Hyena.  Plans for the future which include the reintroduction of critically endangered black rhino and the acquisition of adjoining land are already well underway!
A substantial proportion of all revenues earned at Sossus Under Canvas (as much as 20%), will be directly re-invested into the conservation of the area, thus staying true to our philosophy of re-investing revenues into conservation. This is possible because of our principle that the investment into our camps should be moderate from both a financial and environmental perspective, ensuring sustainability on all levels without the pressure of having to recoup large financial investments.
Sossus Under Canvas will embellish every aspect of our attempts to redefine Namibian luxury, our own definition encompassing privacy, exclusivity, experiential focus and total flexibility all whilst being perfectly comfortable.  We provide all of this at a relatively moderate cost as we have moved away from the opulence and consequent high pricing that is generally associated with a luxury safari.
Our guests will be taken care of by some extraordinary people whose only desire is to ensure that each moment spent with us is as perfect as possible. Guests will be pampered in camp, have their days filled with thrilling encounters, and enjoy nights in exclusivity that is beyond most people's wildest dreams. They will be looked after by a tribe of magicians who aim to leave lasting impressions, and every stay is arranged on an exclusive basis regardless of the number of guests so that we can provide the true 'Journeys Under Canvas' experience.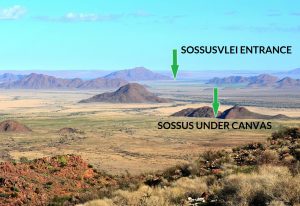 Sossus Under Canvas will be built in a naturally formed amphitheater of a south-facing granite outcrop and it will open in April 2018.
As the harsh desert climate is a primary consideration, tents will be protected from the stormy east winds by natural stone walls, shaded by roofs built from almost 400 recycled oil drums that give the appearance of pangolins, and equipped with furniture built in part from recycled metals and wooden pallets. As a result, this camp will be virtually invisible from any distance and, together with Huab Under Canvas, it will carry the lowest environmental footprint of any camp in Namibia. The large west-facing windows and south-facing door will allow natural cooling by the predominant afternoon south westerly wind and the tents will have basic infrastructure that allows for important comforts such as en suite flush toilets and bucket showers, comfortable twin beds, solar lighting and a shaded day-bed, but the essence of the camp remains "Under Canvas", semi-permanent, seasonal and experiential.
This camp will be booked on an exclusive basis (tiered pricing for varying pax numbers) for each group we take there, and it can only be used as part of one of our privately guided or fly-in safaris.
The camp offers eight tents, two of which are family units, and it will be open seasonally between April and November, offering a fantastic alternative to any traditional lodge in the Sossusvlei area as it also offers exclusivity which is beyond compare.
Contributing members are responsible for the accuracy of content contributed to the Member News section of AdventureTravelNews.