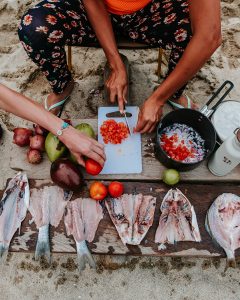 It feels impossible to start a story without acknowledging the fact that the pandemic has impacted innumerable aspects of our lives, especially our ability to travel. While we don't know what the future will look like, we do know we will get back out traveling and exploring. And when we do, it will be with a keener awareness of our own health and safety—as well as the health of the people and communities we visit.
One of the public health concerns for many communities worldwide is the accumulation and disposal of single-use plastic pollution. Plastic trash accumulates on beaches, in waterways, on city streets, and into giant landfills stretching for miles–most of which will never or can never be recycled. Even the recycling and disposal of plastic waste has significant negative health implications. Unfortunately, travelers often contribute to the plastic waste problem, but a few simple choices can help change this.
At GRAYL, our core mission is to empower travelers and adventurers with water purifiers for safe passage anywhere while reducing the impact of plastic waste on local communities. GRAYL purifiers provide global protection from all types of waterborne pathogens (viruses, bacteria, protozoa) plus chemicals, heavy metals, and even microplastics. Last year, a few members of the GRAYL team led a trip to Colombia to explore the beautiful country, capture video and photos of our water purifiers in-action, and to show that it is possible to travel creating less plastic waste.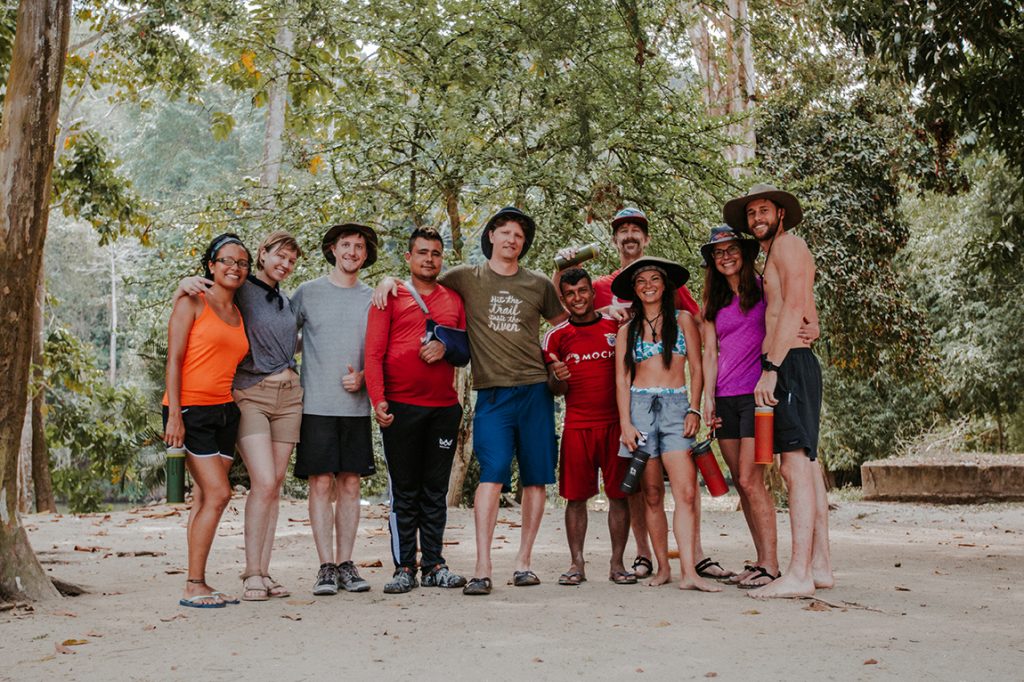 One of the first things we did on our quest to travel plastic-free was to enlist the help of our local tour guide, Keily Mendez, who we worked with to find authentic experiences and interact more with locals. Upon arrival to the city of Santa Marta, the team asked Ms. Mendez to help us avoid using single-use plastic whenever possible—choosing restaurants using metal cutlery and eating-in whenever possible. Only plastic utensils? No problem, we politely declined and used our own bamboo traveling utensil sets. 
Once we left the city, Ms. Mendez led the GRAYL team on a custom tour, a trek through the jungle to camp on a private beach in Parque Nacional Natural Tayrona in Magdalena, Colombia. In order to reduce the amount of packaged food we had to carry in, she found local vendors selling fresh food options— fish caught right out of the river, avocados, plantains, bananas, and more. 
Even in this remote beach destination, we could see evidence of just how difficult it is for the local community to deal with plastic waste. Not only was plastic waste caught in the banks of the river, but also the pristine beach had a mound of trash, waiting to be burned as that was the only option to dispose of the plastics and other debris in a place with no roads, only accessible on horseback or by foot.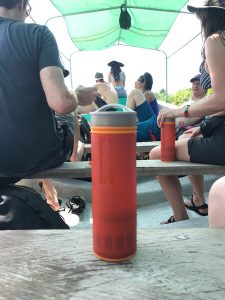 During the heat of the day, it was necessary to drink as much water as possible in order to stay hydrated. There were multiple days in a row on our trip that reached over 100 degrees F. It was common to see tourists and locals drinking from single-use bottled water. But thanks to our GRAYL purifiers, we were able to skip all the bottled water, refilling from sinks, hoses, public water taps, and even the river if needed. GRAYL water purifiers remove dangerous waterborne pathogens including viruses, so we were confident of our safety drinking from any water source. Overall, this was the biggest reduction in our plastic—without a way to filter our drinking water, we would have been going through several single-use bottles each day. 
While we might not have been able to avoid using some single-use plastic during our adventures in Colombia, enlisting the help of our local guide, skipping the plastic shopping bags and utensils, and being diligent about using our GRAYL water purifiers significantly cut down on the plastic waste we left behind. Learn more about incorporating GRAYL water purifiers on your trips and tours.