Better Places Travel, an online platform based in the Netherlands, wants to have all their travellers stop using plastic water bottles, bags and straws on their trips by the end of 2019. Together with their local travel experts, the travel organization is working hard to create plastic-free trips for all their travellers.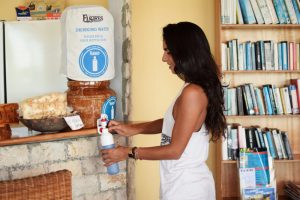 Plastic waste has long been a problem, but since National Geographic's recent 'Plastic Pledge' campaign, a renewed sense of urgency to tackle this issue has been awakened. Even the European Commission is striving to implement new laws combatting plastic waste and a ban on single-use plastic. Products made of single-use plastic, especially plastic water bottles, bags and straws, are used more often while travelling than at home. This is why Better Places Travel is actively committed to reducing plastic. The travel organization aims to go completely plastic-free on all their trips by the end of 2019.
Refill stations and recycling
In many non-Western countries, tap water is not safe to drink and people make regular use of plastic water bottles. Better Places Travel gives their clients a refillable Dopper water bottle to take on their trip together with tips on how they can refill their bottle while travelling. They also advise their clients to take a LifeStraw or SteriPEN with them that allows them to filter or purify their water.
Saskia Griep, the director of Better Places Travel, elaborates on this initiative. "Raising awareness about refillable water bottles was the first step. We are now working together with our local travel experts to see what else we can do to reduce plastic waste. For each destination, we are in the process of mapping existing initiatives that are tackling this issue. We are stimulating hotels we closely work with to provide facilities for refilling water bottles. In Madagascar, plastic waste is recycled into useful building materials. Steps have also been taken in Indonesia, where cars transporting clients across long distances are equipped with water tanks. In addition to this, we also donated more than 5,000 Euros to RefillMyBottle, an initiative that maps and expands water refill stations in Indonesia."
In a growing number of countries, clients travelling with Better Places Travel also receive a cloth bag on arrival to eliminate the need for plastic bags during their trip. In the coming months, the travel organization will roll this out across all its destinations.
Tourists show good example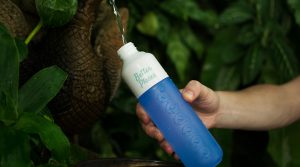 Better Places Travel is also actively fighting against single-use plastic in Jordan. The local travel expert is doing her best to raise awareness and understanding of the importance of water refill points. Yet it is not always easy. Elena, the travel expert in Jordan, shares about her efforts. "Not all hotels see the importance of providing water stations in the hotel for travellers to refill their water bottles. The plastic problem is not the only problem in Jordan. A larger problem perhaps is that the majority of people here do not see that plastic waste is even a problem. Reducing plastic can help save our beautiful country. Hopefully, hotels will realize this, as tourists continue to ask about water stations for refilling their bottle.
Positive impact
Recently, Better Places Travel became the first travel organization in the Netherlands to become accredited as a B Corp. This is a certificate for businesses that not only successfully make a profit, but are also successful in achieving social and sustainable goals. "We are very proud of achieving this certificate, not least to show that travelling does not have to have a negative impact," Saskia says. "When nature and culture is taken into account on a trip, both travellers and locals can benefit from tourism. With our ambition to travel plastic-free, we hope to bring the travel industry one step closer to sustainability."
Contributing members are responsible for the accuracy of content contributed to the Member News section of AdventureTravelNews.