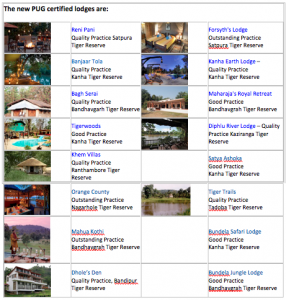 The well-known Indian wildlife tourism campaign, Travel Operators for Tigers, (TOFT), have announced that an additional fourteen wildlife lodges in 11 of India's premier Tiger reserves have gained PUG environmental certification this season, growing its list of lodges to a total now of 39 accommodation holders. Five of these are in Tiger reserves that TOFT has not focused on before, including Satpura in Madhya Pradesh, Kaziranga in Assam, Tadoba in Maharashtra and Nagarhole and Bandipur in Karnataka State.
With much heated debate happening over the future of nature tourism in India, and its ability to be used as a conservation tool, the TOFT PUG audit serves to illustrate the lengths to which lodge owners are prepared to go to, to ensure a future for both themselves and for India's iconic species and its forest habitat. TOFT is aimed at those within the nature travel industry and all visitors to India's wildlife parks to advocate, endorse and support more responsible use of wilderness areas in India. PUG certification is awarded to those lodges in India who are strictly audited and garner economic sustainability, operate in an environmentally sound way, and exhibit strong corporate social responsibility.
As the Founder Chairman, Julian Matthews stated. "It's a critical mark of recognition, as TOFT attempts to steer India's wildlife tourism community down a more sustainable path. Now all visitors, keen on seeing the country's extraordinary natural heritage, and trying to spot an elusive Tiger, can rest assured when they book into one of these lodges that they are supporting conservation efforts, not hindering them." Six lodges now have 'Outstanding Practice' certification, top marks for their environmental credentials, and these lodges are operating to exemplary industry standards, and can be an examples to all. They range from the rustic Camp Forktail Creek, winner of the TOFT Wildlife Tourism Awards, Ecolodge of the Year 2010, to the luxury Mahua Kothi lodge in Bandhavgrah Tiger reserve, owned by &Beyond.
For further details call Julian Matthews on UK + 44 1963 824514 or visit our website to see all the lodges now PUG certified – http://www.toftigers.org/accommodation/ or should you wish to write about or visit any one of these properties please contact [email protected]
Contributing members are responsible for the accuracy of content contributed to the Member News section of AdventureTravelNews.