Editor's Note: This article was written by Katie Hardin and originally appeared on the Solimar Blog. It's reprinted here with full permission.
Instagram is nothing new – it's long been one of our favorite social media platforms – but it still lags behind other tourism marketing tools. Don't neglect this simple app that offers huge potential. Photos are a big part of travel marketing, and this humble app specializes in nothing else so there is no reason it shouldn't be part of your tourism marketing plan.
But where should you get started? Luckily, Instagram is a very straightforward platform. Here are a few tourism players who are doing great things on Instagram, and some quick lessons we can learn from their success.
Highlight User-Generated Content
Why does Australia always make our lists of the best of the best? Because they are terrific tourism marketers. But don't be fooled – you don't have to have a huge budget like Australia to see results. In fact, Australia's Instagram success does not come from employing hoards of photographers. Instead, Australia came up with an innovative way to crowd source their photos. Their entire social media strategy is aimed at enabling fans to build upon their platforms, like Instagram. They essentially turned their fans into marketers. Now, they receive 900 photo submissions each day and choose the best 4-5 photos to share with their 600,000+ Instagram followers.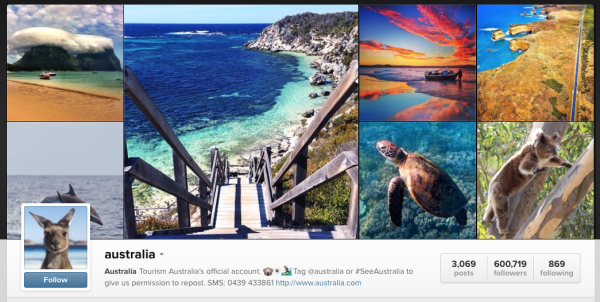 Pay Attention to Hashtags
If you feel a little overwhelmed, step back and focus on doing one thing really well. Instagram has a variety of common hashtags that encourage sharing among users. The most popular one, by far, is #tbt or #throwbackthursday where users post older photos on Thursday. Within the tourism world, nobody does #tbt better than Delta. In fact, most of their Instagram content is throwback photos from the earlier days of the airline. Your photos don't have to be new and shiny. It can be a great marketing tool to reflect on the nostalgia of a different time – especially since so many people have vivid travel memories. It also inadvertently emphasizes the long tradition of your brand and highlights innovation over time.
Throwback Thursday isn't the only hashtag around either. Read here for a list of other great daily hashtags, and don't forget to pay attention to current trends. Specific hashtags pop up all the time to celebrate events, holidays, and other happenings.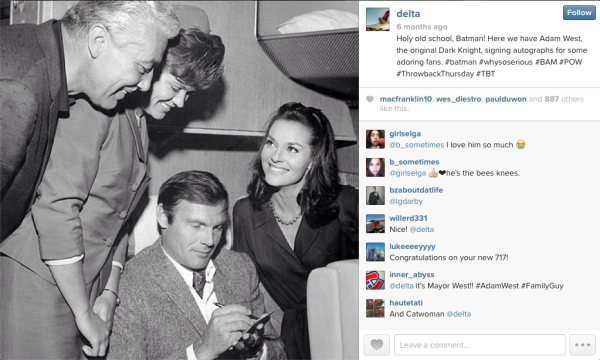 Don't Neglect Other Aspects of Your Brand
Yes, gorgeous travel photos are an easy sell on Instagram, but don't neglect to highlight other aspects of your brand. Everything can't be photos of sunsets or beaches! And those won't necessarily help your brand or destination stand out in the crowd. Virgin America has found creative ways to highlight other aspects of the traveler experience. Their Instagram feed is full of passengers and cabin crew doing everything but taking themselves too seriously. Their photos help display the mood of the airline by emphasizing people and candid moments over scenery and posed shots. They always look like they are having fun, which is a huge feat for a company that deals in an area of travel most people consider to be a pain.
Virgin also runs some great contests, like this social media one from 2013. They offered 15 minutes of free in-flight wifi for Twitter, Instagram & Vine and encouraged passengers to use these social media platforms & a specific Virgin American hashtag to enter to win airline points. The easier you make it for users to interact with your social media (free wifi!), the more results you'll see.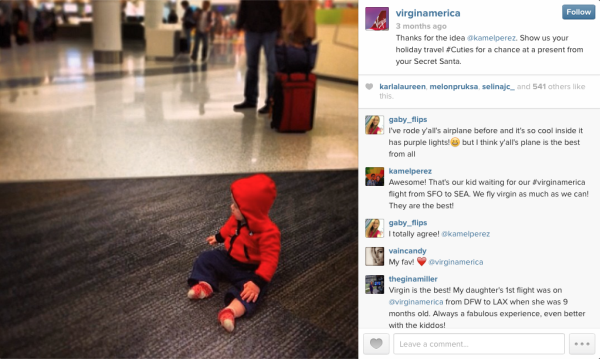 Educate Your Audience
Instagram isn't just about gathering likes and follows. Like all social media platforms, the ultimate goal is to grow your audience and generate more customers. Sharing beautiful images is a great way to showcase your destination and inspire future visitors, but it's also important to help nudge them down your sales funnel. You want them to go from aspiring traveler to actual traveler.
One way you can help this process is by focusing on educating your audiences with key pieces of information. This will also help set your destination apart. I know this is a huge need in tourism marketing because I had to look outside the travel world for a good example.
NASA's Goddard Space Center does an outstanding job of marrying their breathtaking images with equally intriguing information. Each photo helps inform the viewer with interesting facts, tidbits and stories. You can do the same thing with your travel-minded audience. Rather than share a photo of a lake with only its name and location, mention a unique fact about it. Maybe it's great for fishing or swimming. Maybe it hosts an annual festival. Maybe it's a hidden gem that most visitors would be surprised to learn is easily accessed from a nearby hub city.
You should still try to be concise, but by adding one extra sentence, you can help move your traveler from the dreaming to planning stage of travel.