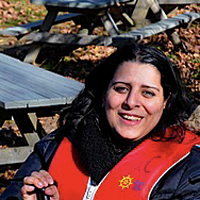 "Rich and happy as I was after my third voyage, I could not make up my mind to stay at home altogether. My love of trading, and the pleasure I took in anything that was new and strange, made me set my affairs in order, and begin my journey through some of the Persian provinces."
– "The Seven Voyages of Sinbad the Sailor: 4th Voyage"
Political events and conflicts, and for the past seven years, even the allure of sites like Petra in Jordan, the Great Pyramids of Giza in Egypt, and Byblos in Lebanon was not enough to convince traditional tourists to take a journey in this part of the world. Even destinations in the Near East region that were struggle-free have been negatively affected.
Skeptical voices about the area's stability started to get louder as they preached their dubious words about the low possibility of tourism recovery in the Near East region. The Adventure Travel Trade Association (ATTA), backed up by its global community and research work, addresses the dynamics of tourism in the Near East in a different way.
According to the Global Report on Adventure Tourism, adventure tourism is resilient, attracts high-value customers, supports local economies, and encourages sustainable practices. The ATTA's extensive study into the preferences and behaviors of U.S. adventure travelers showed "adventurers" and "adventure enthusiasts" are characterized by their interest to explore new places. Adventure travelers can become concerned and anxious by the conflicting news stories from news reporting agencies, but it will never deter them from exploring the world.
The ATTA strongly believes adventure travel is not only instrumental in aiding destinations with an evident slump in traffic, but it is equally important in developing the adventure travel product of new players in the Near East region. It has been in partnership with the Jordan Tourism Board for more than ten years, and the ATTA has worked closely with the organization to develop adventure travel in Jordan.
Jordan, as the host of AdventureNEXT Near East, is presenting a unique opportunity for its neighbors in the Near East region to showcase their adventure travel offerings to an audience that is dedicated to helping the region recover from its current crisis. During AdventureNEXT Near East, participants benefited from event mainstays like the Marketplace, inspiring keynotes, and dedicated networking time as well as a variety of Pre-Adventures in Jordan, proving there are lots of safe and exciting travel opportunities in this often brushed-off part of the world.
The ATTA firmly believes its community members that traveled to Jordan and participated in AdventureNEXT Near East will carry home the messages of hope they received when visiting sites, meeting local people, witnessing cultural experiences, and forming partnerships and share them with others. The event aspires to deliver to the region the momentum of a potential influx of travelers who will be part of the solution and advocates of sustainable responsible travel.
Coming from the Near East region, I know we have gone through difficult circumstances before, but we have always come back stronger. I am hopeful of the positive outcome AdventureNEXT Near East has the potential to deliver to Jordan and beyond.
Interested in AdventureNEXT Near East in 2018? Sign up to receive updates.