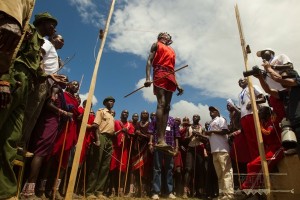 There was a time when in order to prove their manhood and attract the girls a Maasai warrior had to kill a lion. Today, in the Maasailand of southern Kenya, Maasai groups do not hunt lion and instead compete against each other to high-jump, Maasai-style on the spot; throw spears (javelins); run 5000m and emulate Mo Farrah and doing the unorthodox Mobot move; throw their traditional rungu at targets; and sprint 200m and pull a lightning bolt celebratory pose.
The rewards for the Maasai, other than finding potential mates, include sponsorship to train in Kenya's high-altitude training camp of Eldoret and then compete in the New York Marathon, win educational scholarships, a stud bull, and to meet their heroes and fellow Maasai David Rudisha, Billy Konchellah and Ruth Waithera Nganga. Wildlife flourishes and conservation tourism benefits all communities it operates in. Instead of hunting for lions these Maasai are competing for trophies of a very different sort, bringing respect, pride and esteem.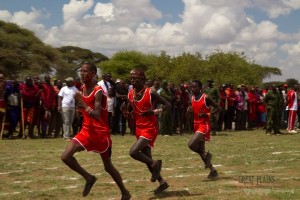 "The Maasai Olympics is the first time I am aware of that the Maasai leadership of an entire region has proposed to take lion killing out of their warrior culture after 500 years, making it an actual taboo and providing athletics instead as an alternative warrior activity."
Tom Hill, Maasailand Preservation Trust
On December 22, Great Plains Conservation co-sponsored this hugely enjoyable event with the Big Life Foundation/Maasailand Preservation Trust in Kimana Wildlife Sancturary. We are proud to support initiatives like this and congratulate the Mbirikani Game Ranch, where Great Plains' ol Donyo Lodge is located, on winning the overall title against their competing Maasai neighbours.
Rungu throwing. Click here
Congratulations too to all that took part to make this the first of many Maasai Olympics, a better option today and for tomorrow for the preservation of Maasai culture and the wildlife the Maasai live amongst. Expect many more Rudishas in the Rio 2016 Olympics.
Contributing members are responsible for the accuracy of content contributed to the Member News section of AdventureTravelNews.