Vancouver, CANADA – ATTA member Small Planet Consulting (SPC) is thrilled that Surama Village Eco-Lodge of Guyana has been selected as the joint winner of the 2011 Caribbean Excellence in Sustainable Tourism Award. Surama was presented with the award last week by Graham McKenzie, Managing Director at Travelmole, and Hugh Riley, Secretary General of the Caribbean Tourism Organization.  Surama shared the honors with Harrison Caves of Barbados when both enterprises were recognized and honored at the 12th Annual Caribbean Sustainable Tourism Conference (STC-12), which took place at the Fairmont Southampton in Bermuda from April 3-6.

The Excellence in Sustainable Tourism Award is aimed at identifying, recognizing and showcasing sustainable tourism best practices in the Caribbean which embrace sustainable tourism concepts and core values and help to enhance the tourism product offerings. Surama was selected for their exemplary leadership in harnessing the economic power of the visitor industry in a responsible and sustainable way to create wealth and to benefit the community of fewer than 290 people and their environment. The Surama Eco-Lodge and all tours in and around Surama – a small Amerindian village situated on five square miles of savannah land – are managed and operated solely by the local Makushi Amerindians. With only eight rooms, tourism is intentionally kept small to lessen any impact on traditional lifestyles. However, the roughly 650 annual visitors provide employment for 70 people – (from three-quarters of village households) and nearly 60 per cent of the village's income comes from tourism.
Head judge for the awards selection committee, Lelei LeLaulu, president of the global development agency, Counterpart International, said "The two initiatives reflect two of the core aims of the CTO and TravelMole; namely to use tourism as an anti-poverty/development tool and to encourage the continuing refinement of products to ensure enhanced environmental conservation and added revenue generation."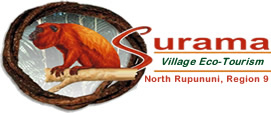 On the selection of Surama as the joint award winner, Guyana Minister of Tourism, Industry and Commerce Mr. Manniram Prashad noted that Guyana has surpassed many other countries with its brand of eco-tourism product, and said "We are very happy and the Government of Guyana is extremely pleased with Guyana winning this prestigious CTO award jointly with Barbados…This is the most important thing that has ever happened for tourism in Guyana, for the first time ever…".  The Minister also expressed pleasure about the CTO's announcment that Guyana has been chosen to host the 13th Annual Caribbean Sustainable Tourism Conference, in April 2012.
Sydney Allicock, the Executive Director of the ecolodge, received the award on behalf of Surama. Mr. Allicock is the visionary leader behind the ecolodge, and his leadership in community tourism has been recognized several times, most recently when he was chosen as the 2010 Public & Civic Contributions Laureate for the prestigious Anthony N Sabga Caribbean Awards for Excellence (ANSCAFE).

Vancouver-based Small Planet Consulting played an integral role in Surama's achievement. Judy Karwacki, CEO of SPC, has been working for over six years in Guyana on projects for USAID, CIDA, Conservation International, the European Union and the British High Commission. She has developed a close relationship with Surama Village, and volunteered to lead the development of the Guyana Tourism Authority's submission to nominate Surama for the award.  Judy was assisted in preparing the submission by the United States Agency for International Development/Guyana Trade and Investment Support (USAID/GTIS) project.
This is the second award that Small Planet Consulting has playing a leading role in securing for Surama.  In 2009, SPC partnered with Geographic Expeditions, another ATTA member, to prepare a submission that resulted in Surama being chosen the ETC 2009 Responsible Tourism Showcase Honoree. As part of the Educational Travel Community's commitment to advancing responsible tourism, this annual award recognizes the efforts of ETC members and their partners working diligently in the field to develop and implement responsible tourism initiatives.
SPC also has assisted Surama to secure grants to purchase a vehicle for transporting visitors, for training in the U.S. with the Massachusetts's Audubon Society and American Birding Association for one of their guides, and to obtain optics and other equipment for birding and nature tours.   SPC's voluntarily support of Surama reflects their commitment to sustainable, authentic, responsible travel and the belief it can be a powerful force for change. SPC frequently donates their time and expertise to other sustainable tourism initiatives in Guyana and elsewhere that benefit local communities, indigenous people and conservation.
Contributing members are responsible for the accuracy of content contributed to the Member News section of AdventureTravelNews.