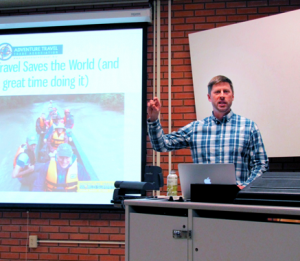 ATTA President Shannon Stowell presented to the College of Business at Montana State University (MSU) as an Entrepreneur-in-Residence, being involved in multiple aspects of the program for several days. Stowell's November 30th presentation to the students focused on an introduction of global adventure travel and its pivotal role in international economies and how it can be developed in a manner critical to the protection of local environments, wildlife and culture. Stowell spoke about the transformative possibilities of adventure tourism for individuals as well as organizations and communities – a personal tenet that led him to leave Altrec.com, a successful outdoor retail start-up he co-founded in 1998, to restructure and rebuild the ATTA in 2004.
What prompted you to participate in the Entrepreneurial program of the MSU Business Program?  
I was invited by Dr. Scott Bryant, the director of the Jake Jabs Center for Entrepreneurship Program at MSU to come and spend some time with business students to share my experiences and stories.  Having been a driver in both a startup (Altrec.com) and a turnaround (ATTA), in addition to early involvement in another startup as an employee gives me a solid history of 21 years now of early and mid stage businesses.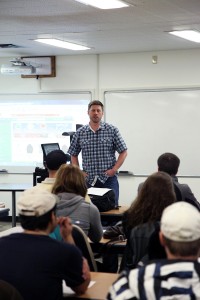 What was the response of the students? What key takeaways did they seem to respond to the most?
They really had positive things to say afterwards.  I'll be honest- it was a little hard to tell what most were thinking while i was up there speaking, but afterwards the feedback was really positive.  I think they appreciated the real-world aspect that an outsider brings to help bring examples to the classes they are taking.  It's really great- mixing the theory and ideas with practice.  I was also able to meet with numerous groups of students who were writing business plans and help them think through the pieces more critically.  Some were merely for assignment, but some were also building actual plans they intended to pursue- that was really exciting to be a part of.
What early influences were pivotal to you in your path as an entrepreneur?  
A lot of my lineage includes this blessing/curse of needing to be an entrepreneur.  I say that somewhat joking, but the freedom of running your own show actually means that show always runs you. I tried to share that with students too- not to scare anyone too much, but just to help them see the reality of how difficult it is to build from scratch.
Your talk focused on transformative experiences – as key to both your development and success as an entrepreneur as well as key for the same in adventure travel businesses. Can you discuss why this is important? Do you think there can be success in either arena without it?
Well, I think there are plenty of examples of businesses with managers and owners who appear to be only money focused, so I don't know that it is absolutely critical, but I think for those of us selling adventure travel, it's a must.  It is not merely a financial transaction when someone takes an adventure trip.  They are often going to come away a different person.  And literally every person I've met in the adventure business and asked about this- they all have some experiential story that changed them.  A Grand Canyon raft trip, an Outward Bound trip in Colorado, a semester in Europe, a trek in Asia- whatever it might be.
If you could give advice to someone looking to build a new business in the adventure tourism space, what would it be?  
In regards to tour operators, I'd say- go be a guide for someone first.  Like any industry, a lot of the best people start at the ground level learning the operations and basics.
If you could go back and do anything differently, what would it be?  
I would have taken more time off.  I also would worry less about competition and be assured that if we do the right thing and believe fully in our plan and goals, that it will pay off- it almost always does.
Is there any part of being an entrepreneur in this field that is different from any others?
I can't speak from first hand experience but what does seem different about this field is that people are incredibly passionate about what they do and are very mission and business driven at the same time.  I've never come across a group that is so focused on the triple bottom line of people, planet and profit in such a balanced way.  I feel incredibly blessed to be a part of it all.