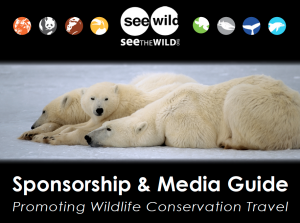 SEEtheWILD, the first and largest website focused on wildlife conservation travel, is offering new benefits for tour operators and non-profit organizations whose tours benefit efforts to protect endangered species. Through our popular website and large social media network, SEEtheWILD engages wildlife enthusiasts around the world to learn about and go see charismatic animals in their natural habitats. We have recently relaunched our website and are now offering membership subscriptions to operators and organizations who qualify. In addition, ATTA members are eligible for a 20% discount on all of our marketing packages.
Our wide range of membership plans and benefits offers companies of any size a great way to reach our audience. Our social network includes more than 15,000 Facebook fans, 30,000 Twitter followers, 5,000 email subscribers, and 10,000+ average monthly unique visitors to our website. Benefits include social media promotion, multiple tour postings, sponsored blog content, e-newsletter ads, direct links to your company's page, and much more. Plans start at just $10 per month and non-profit discounts are available.
SEEtheWILD is a non-profit project of The Ocean Foundation and since our launch in 2012 has established leadership in encouraging the travel industry to become more engaged in protecting the animals that travelers want to see. To ensure that we promote companies who support conservation, we have developed a set of guidelines for members and ask prospective members to fill out a short application form. Ten percent of membership fees will go towards wildlife conservation efforts around the world. Current members include Earthwatch Institute, Wildland Adventures, Natural Habitat Adventures, and Global Vision International.
Learn More:
Contributing members are responsible for the accuracy of content contributed to the Member News section of AdventureTravelNews.