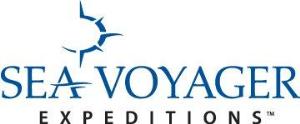 Sea Voyager Expeditions specializes in delivering extraordinary journeys of exploration by sea, specifically along the coastal regions of Colombia, Costa Rica, Panamá and Ecuador. We are thrilled to offer year-round small-ship cruise programs ranging from 9 to 13 days. These thoughtfully planned itineraries make for truly memorable voyages, filled with natural history and cultural highlights.
The M/V Sea Voyager is a small and versatile 60 guest expedition-style ship, specially designed for the tropics. Our newly designed natural-history voyages for 2012 & 2013 explore, in depth, the "last frontier" of the Americas: southern Central America and northern South America. Our destinctive small-ship expedition cruise programs operate all year and presents extraordinary possibilities to immerse oneself in fantastic, wildlife-rich ecosystems from a comfortbale shipboard base. Our anchorages are in remote coves or just offshore from small villages. In addition to great wildlife viewing, our guests also have access to beaches with swimming, snorkeling and kayaking options.
Our expedition team and crew sets us apart –
The Sea Voyager expedition team travels with our guests throughout each voyage. Our experienced expedition leader will be coupled with an ornithologist/birder, marine underwater specialist, naturalist and/or historian. The educational team shares their enthusiasm and knowledge about the areas visited through lectures, recaps and briefings that occur when you are out on deck, on land during formal and informal guided walks, or as you explore destinations by the ship's zodiacs or kayaks. The staff is dedicated to ensuring that our M/V Sea Voyager travelers, both onboard and ashore, is enriching and fun. You may prefer to be active and participate in hikes, swimming, snorkeling, or diving – or you may choose to relax on deck or ashore on a remote beach – it's your choice. Our crew's commitment to hospitality ensures that our guests will be comfortable, relaxed and refreshed during their voyage with us.
We have chosen to specialize in this region because we know it so well. And, with the M/V Sea Voyager, which has spent almost a decade in the region, our focus is on exploration, from the sea floor below to the rainforest canopy above.
The crystalline turquoise waters will beckon you in for a swim and the coral reefs and rocky shorelines are teeming with a kaleidoscope of fish and other invertebrates. Our voyages truly aim to expand our guests' horizons, pique their imagination and quench their quest for adventure.
To view our electronic brochure and log into www.seavoyagerexpeditions.com
For brochures, reservations and sales program information – call 888-912-2572
Click here to connect with Sea Voyager Expeditions on ATTA's member community, The HUB.