Editor's Note: While AdventureTravelNews NOW does not normally publish member trip announcements and new itineraries, we do include such announcements from members who are B2B suppliers.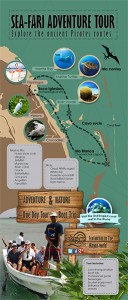 EcoColors, always in search of how to promote environmental awareness and run sustainable trips, has develop this amazing new trip with practical solutions to complicate problems. EcoColors is launching on November 1st an amazing, full of adventure and wildlife tour. This amazing trip start 10 minutes away from Cancún and we want our costumers to get to see the largest amount of Wildlife in one same place (crocodiles, manta rays, variety of birds, tons of colorful fish, marine turtles) as well as help us fight the invasión of the Lionfish in the Caribbean Waters. Lionfish are voracious predatory fish native to the Indo-Pacific and since it has no natural predators in our waters, it is finishing with the marine life of our coral reefs and unbalancing the ecosystems. In this tour we inform our clients about this problem and our captain either captures some of this fish to serve them in a delicious ceviche or we buy it from fisherman of the area who, motivated by economic and environmental benefits, will fish even more, hoping this way this terrible problem can be solved . Be part of this incredible Adventure and help us with a conservation project of our reefs and its inhabitants!
Contributing members are responsible for the accuracy of content contributed to the Member News section of AdventureTravelNews.