Other New Program Enhancements Assist in Packaging Activities, Events and Accommodations and Increasing Sales to Current Customers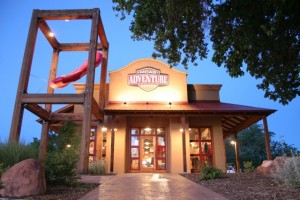 Salt Lake City, UTAH – In Moab, UT, visitors can now go to the Moab Adventure Center office, gaze upon an easy-to-read electronic display and determine what activities they can sign up for on the spot or perhaps enjoy tomorrow or the next day.
"Guests love it! They don't waste time figuring out what's available or what to do. They can easily see that a jeep safari or perhaps a river trip is starting in 10 minutes, and they're out the door," said Brandon Lake, founder of Resmark Systems (http://www.resmarksystems.com/). "It's quite similar to those departure/arrival screens you see at the airport, but it's designed to showcase adventure activities," Lake adds.
The feature is one of several new advances in Resmark Systems Tour Operator Software designed to save tour operators time while enhancing revenues.
Lake said that clients purchase their own display hardware, like a flat screen LCD monitor, and link it to their reservation database via a simple browser connection to the Internet.  Once they've chosen what trips they would like to display, the screen then updates changes in availability every five minutes which the in-store customers can then see.  "It creates a great sense of urgency for customers considering what to do next," explains Lake.
"This is incredibly useful in any location where people purchase activities on a walk-in basis. The purpose of the display is to channel new bookings into activity launches that are already confirmed and are close to departure. Booking any remaining space on these launches would generally be considered your highest priority as it often results in your greatest profit," said Lake. Some 30 activities can be listed chronologically by the minute noting such things as "Limited Availability, Available, or Sold-Out."
Another new Resmark enhancement allows tour operators to create packages of per-person based activities, such as an adventure tour, and then combine it with unit-based items, such as lodging rooms or item rentals.  The desired package elements are assembled in the database and are sold to the customer with per person adult and per person child rates.
"The savings in time to the tour operator is pretty significant when you don't have to deal with the components of a package," says Lake, noting that Resmark clients experience time savings of over 50 percent when they start using Resmark overall. "These features become more important in a time of lean budgets and staffing."
A third new advancement called 'Upsell Management' allows tour operators greater flexibility in how to encourage and stimulate the up-selling of other activities or add-ons.  "Your greatest opportunity for making a new sale is often the very person you've already sold something to," explains Lake.  "With Resmark's online automation, as well as built-in tools to encourage your in-house reservation staff to offer guests more choices, sometimes a sale is made simply because you remembered to ask.  For tour operators of all sizes trying to capitalize on sales, Resmark Systems can be invaluable."
Contributing members are responsible for the accuracy of content contributed to the Member News section of AdventureTravelNews.