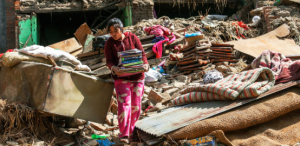 Nepal was hit by 7.8-magnitude earthquake on April 25 and a major aftershock of magnitude 7.3 on May 12. The results have been heartbreaking: over 8,500 people killed, more than 19,000 injured, nearly 500,000 houses destroyed, about 250,000 houses damaged and 6,000 schools destroyed which means nearly 1 million children can't return to school. In total, 8 million people are affected.
Helping the Victims
Sambhav Nepal, the charity I am involved in, has been active for many years in the rural parts of Gorkha, close to the epicenter. So far we have distributed:
16,000 kg of rice, lentils and salt, and tarps in Arupokhari and Manbu villages
1,200 roofing sheets to three schools in Manbu, Aprik and Aruchanaune villages
You can't help but feel deep sadness at the sights of destruction. There are villages like Aprik where every house is collapsed or too unstable to use. And some villages where relief supplies haven't reached. (We were the first aid team to arrive in Manbu.) The people there need so much help but we ourselves can't make a big difference.
For that, we need your help.
For Relief Supplies: Go to this page and find out how you can donate: http://www.sambhavnepal.org/how-can-you-help/donate.html
For School Rebuilding: We are aiming to rebuild 35 schools destroyed by the quake in the rural areas. Contribute for the project here: https://www.indiegogo.com/projects/rebuilding-quake-affected-schools-of-gorkha-nepal
Rebuilding Volunteers
If you want to come here and volunteer to rebuild the houses destroyed by the earthquake, then we have two trips just for you:
Nepal Rebuild Volunteer Program (9 Days): Travel to a village in Gorkha and spend 5 days engaged in simple rebuilding activities.
http://acethehimalaya.com/voluntourism/voluntourism-trips/nepal-rebuild-volunteer-program.html
Rebuild Nepal and Annapurna Trek Program (13 Days): In this trip, you not only rebuild houses but also trek in the famous Annapurna region.
http://acethehimalaya.com/voluntourism/voluntourism-trips/rebuild-nepal-a-annapurna-trek.html
Contributing members are responsible for the accuracy of content contributed to the Member News section of AdventureTravelNews.