New York – The Rainforest Alliance, an international nonprofit organization, is proud to announce the companies that will receive "Sustainable Standard-Setter" awards on May 11 at a gala event in New York City. The awards honor businesses and individuals that champion conservation, protect the environment and support local communities.
"Companies are continuing to make bold commitments to sustainability and traceability, despite ongoing instability in the economic environment," said Tensie Whelan, president of the Rainforest Alliance. "The companies and individuals honored during our annual gala deserve recognition for their demonstrated commitments to sustainability. Collectively, their efforts are enormously beneficial to workers, to communities and to the environment."
The 2011 "Sustainable Standard-Setter" honorees are:
Costa Coffee
The Kenco Coffee Company
Mars, Incorporated
Secretaria de Medio Ambiente y Recursos Naturales~Comisión Nacional Forestal
Eric Poncon
Mayan Palms
Mayakoba Tourism Development and its three hotels: Fairmont Mayakoba, Rosewood Mayakoba and Banyan Tree Mayakoba
2011 Gala Co-chairs:
Columbia Forest Products
Mexico Tourism Board
2011 Gala Special Guests
Sigourney Weaver, actress
Martha Stewart, TV personality
Jane Alexander, actress
Mary Stuart Masterson, actress/director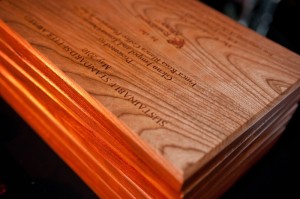 The honorees and co-chairs will come together on May 11 with other business leaders and representatives from the Rainforest Alliance for a day-long workshop on marketing sustainability and certification. Following the workshop, they will join other Rainforest Alliance supporters for an awards dinner, dancing and a silent auction at the American Museum of Natural History. Gala proceeds benefit the Rainforest Alliance's work in sustainable agriculture, forestry, tourism and climate change.
Achievements of the 2011 gala honorees:
Costa Coffee
When the UK's largest and fastest growing coffee chain committed to sourcing all of its beans from Rainforest Alliance Certified™ farms, coffee drinkers and coffee-growing communities took notice. Signs alerting the public to the sourcing decision were posted in all 2,000 Costa Coffee retail locations. All takeaway cups were printed with information about Rainforest Alliance certification. And print and television ads promoted the new seal-bearing java. Costa's work to ensure that farm communities are reaping social, environmental and economic benefits goes beyond the purchase of certified coffees; through the Costa Foundation, the company has built 16 schools for children in five countries and it plans to continue building schools for in-need communities.
The Kenco Coffee Company
Nearly a century ago, a small group of London-based traders launched the Kenya Coffee Company and began buying beans directly from Africa. Today, under the simplified name "Kenco," the Kraft UK brand sources from a variety of regions and espouses a commitment to buying 100% of its coffee from Rainforest Alliance Certified farms. The company, which began its collaboration with the Rainforest Alliance in 2005 and gradually increased its purchases of certified beans, wants the sustainability journey to be simple and engaging for its customers. To this end, Kenco recently began selling coffee in Eco Refill packs, reducing the packaging weight for each pound of coffee by 97 percent compared to the standard pack.
Mars, Incorporated
As the owner of some of the most well known food and confectionary brands, Mars, Inc. knows that the sourcing decisions it makes send a message to the industry at large. By investing in building capacity for the farmers at the core of its supply chain and prioritizing economic, environmental and social sustainability criteria in its sourcing decisions, the company can make a powerful statement and positively impact millions. That's why Mars is working to ensure the sustainability of its raw ingredients, including the cocoa used in all of its chocolate products. By 2020, Mars plans to source 100 percent of its cocoa from sustainable origins, including Rainforest Alliance Certified farms. It's a decision that will benefit millions of small farmers while helping to ensure a continued and uncompromised supply of high-quality cocoa.
Secretaria de Medio Ambiente y Recursos Naturales~Comisión Nacional Forestal
With five different ecosystems found within its borders, Mexico is among the world's richest countries in biological diversity. Over 80 percent of the country's forests are under the legal jurisdiction of communities and ejidos. Since most of their income is derived from the forest, ejido members have a vested interest in ensuring that their lands are sustainably managed. Mexico's Ministry of the Environment and Natural Resources – National Forestry Commission (SEMARNAT—CONAFOR, for its name in Spanish) proactively supports the ejidos' efforts. In 2007, the ministry signed a formal agreement with the Rainforest Alliance, and since then, we have collaborated with forest-based communities throughout Mexico on sustainable management, on increasing the competitiveness of their businesses, and on developing markets for locally made Forest Stewardship Council (FSC)-certified products.
Eric Poncon
While Eric Poncon's work crosses industries and national borders, his commitment to sustainability remains constant throughout it all. Take, for example, Morgan's Rock, a hacienda and eco-lodge, located just 20 minutes north of Nicaraguan beach town San Juan del Sur. The lodge employs local staff, furnishes its rooms with pieces crafted by area artisans, uses solar energy and features a large, private nature reserve. The property also includes a FSC/Rainforest Alliance Certified tree plantation and his family's coffee farms in Northern Nicaragua are also Rainforest Alliance Certified. Poncon's efforts in sustainable business don't end in Nicaragua. At ECOM Agroindustrial, Corp., an agricultural commodities trading business, he is working to develop Rainforest Alliance Certified supply chains and improve farming practices throughout Latin America, Africa and Asia.
Mayan Palms
The forests of Guatemala's Maya Biosphere Reserve are teaming with flora and fauna, including the xate palm (pronounced SHA-tay). In addition to being a popular filler in floral arrangements and a handout at Palm Sunday services, xate provides an important source of revenue for communities within the reserve. While xate was once harvested sustainably, a shifting focus on quantity rather than quality led to over-extraction and forest degradation. To ensure that the fronds are harvested without damaging the surrounding environment, the Rainforest Alliance joined forces with communities within the reserve to establish guidelines for sustainable xate harvesting.  In 2005, Mayan Palm was established to further this goal of helping communities to protect and profit from their forests. The nonprofit organization trains locals in sustainable xate collection and eliminates middlemen by connecting harvesters directly with eco-minded buyers. Thanks to assistance from the Rainforest Alliance and the University of Minnesota, xate processors have also established profitable alliances with North American and European buyers. Today, 10 communities are members of Mayan Palm and of these, five have earned FSC/Rainforest Alliance certification.
Mayakoba Tourism Development
Located in the heart of Mexico's Riviera Maya, the Mayakoba Tourism Development combines luxury and comfort. Comprised of three separate, independently owned hotels — Fairmont Mayakoba, Rosewood Mayakoba and Banyan Tree Mayakoba — the development sits on 593 square acres (240 square hectares) of ecologically diverse land dotted with lagoons, mangrove forests and white sand beaches. Recognizing the need to protect this incredible landscape, the complex began working with the Rainforest Alliance in June of 2010, and has since been on the path toward earning verification for compliance with the Global Sustainable Tourism Criteria's internationally recognized recommendations for socially, environmentally and economically sustainable tourism. Hotels on the property have taken a variety of measures to ensure their sustainability: implementing water and energy-saving practices; promoting visits to local communities; and administering strong and well-documented sustainability policies and procedures.
Gala sponsors: Domtar, Gloria Jean's Coffees, Mexico Tourism Board, National Geographic Traveler, Nestle Nespresso SA, Suzano Pulp and Paper.
Contributing members are responsible for the accuracy of content contributed to the Member News section of AdventureTravelNews.