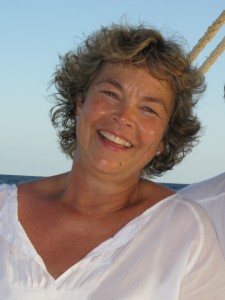 Assistant Editor's Note: After over 30 years building luxury ecotourism hotel and travel brands in Africa and Asia, industry veteran and ATWS speaker Nicky Fitzgerald is now focused on doing the same in Latin America, while shifting away from the corporate world and into a consultancy role. She talks about this transition and lessons she's learned along the way in today's Q&A.
Fitzgerald opened her first hotel in 1982 at the southernmost tip of Africa and since then has opened, operated and marketed over 60 luxury safari lodges and boutique hotels across South Africa, Botswana, Zimbabwe, Namibia, Tanzania, Kenya and India. In 1994 she was employed by Conservation Corporation Africa (CC Africa) as Operations Director and later moved into sales and marketing. Nicky was part of the team that grew CC Africa from 3 to 50 lodges across sub Saharan Africa, and later in India, in all the great wilderness high spots – Masai Mara, Ngorongoro Crater, Serengeti, Okavango Delta, Victoria Falls, Namib Desert to name but a few.
The company employed 2800 people and ran successful tour operations business in 15 African countries. Many CC Africa lodges achieved global recognition winning awards in both the luxury hotel and prestigious ecotourism categories, including global winner of British Airways Tourism for Tomorrow Award.
In 2008 Nicky was responsible for the rebranding of CC Africa to &Beyond and repositioned &Beyond's travel business from being a tour operator to becoming a luxury travel provider specializing in fulfilling high ticket trips off the website.
Nicky departed from &Beyond in October after 15 years with the company and is currently exploring the many opportunities that the luxury travel industry offers especially in Latin America. Together with her husband Steve she is a founding partner of Pangaea Associates, a consultancy focusing on the development of ecotourism in the developing world.
Can you give us some background of the professional transition you've made?
After 33 years of building two hotel and travel companies (Halcyon Hotels and &Beyond, formerly CC Africa) I made the decision to take a break from the corporate world for a year and try my hand at consulting. After all, I have probably made all the mistakes there are to be made in this industry so I decided to use this painfully earned knowledge and help others from making the same errors. I have worked in operations for over twenty years and in sales and marketing for a further ten, so I suppose you could call me a Jack of all trades and yes, a master of none.
Together with my husband Steve, I have worked with rural communities across Africa and Asia in creating profitable luxury ecotourism businesses and we both feel we have much to give back once unfettered from corporate constraints. There are so many workable solutions and approaches in creating good businesses in the remote and beautiful places on our planet by partnering with and empowering local communities and in doing so create real value for all stakeholders.
I have a simple philosophy with regard to successful sustainable travel – if we consistently delight our guests we can make many small and meaningful differences to our planet whilst running a profitable operation. I believe wholeheartedly that if you put guests first everything else will follow – they should never be regarded as a necessary evil.
What's your future vision for 2011, 2012 and beyond?
On a broader level I would dearly like to see sustainable travel back as a priority on the agenda of serious investors. Because there have been some failures in ecotourism the investment community has backed off, which is a great pity (of course the many successes are seldom recognised by these doomsayers). We need to work together – investors, non-profits, communities, governments and professional operators and marketers – to implement workable solutions of which there are many that have been tried and proven.
On a personal level, together with Steve and our partners, the plan is to build a luxury adventure travel company which will offer guests great experiences in remote parts of Latin America. We will take what we have learnt in Africa and India over the last thirty years and apply it into building a substantial business over the next three years. Happily our partners have extensive knowledge of investing and operating in the region and with any luck I can sneak into retirement without having to learn Spanish and Portuguese!
What key trends and changes do you see emerging in the industry?
I think a couple of cornerstones in adventure travel will never change – great guest experiences, world class guiding, reasonable access, always value for money regardless of the cost of the journey, guest safety, partnering with local communities on a fair and equitable basis and always operating sensibly in sensitive areas.
Some newer trends would be smarter marketing through online channels; more and more guests will book directly with the person who will deliver the experience; more cost efficient operations by thinking out of the box (and this often improves sustainability – it's surprising how much money can be saved by implementing 'green' practices); employ the best staff because your company stands for something more than profit (great Gen X and Y'ers won't work for you otherwise); clever use of social media (and hopefully this will mean the end of dreary online newsletters – death by email); learned guides replaced by passionate story tellers; return of hands-on owner-run operations (guests love this); sustainability will become part of who you are and not a clip-on marketing ploy which is over-communicated at every turn (and hopefully the extinction of pledge cards and silly 'voluntary' donations that are added on to your bill); and finally realizing that good adventure travel businesses succeed because they don't make guests feel guilty but involve the guests in what they do in a gentle and delightful way.
As an industry veteran, what 3 key pieces of advice would you have given yourself 10-20 years ago?
Avoid the travel industry at all costs! Just kidding, I wouldn't have traded my career in travel for anything in the world.
Three things I would have done differently: embraced the internet sooner and smarter; made decisions around guests and not investors; and been properly capitalized.
And if you could advise a new marketing executive entering the adventure tourism field today, what would you tell them?
In a nutshell I would tell them to get their marketing message as close as possible to the guest and to use story telling as the medium. I would urge them to embrace all channels of distribution – it doesn't really matter how the guest books, as long as they book you. Bed owners and tour operators should always strive to find an equitable partnership that works for both. And I would also tell them that their most valuable asset is not the business, the vehicles, the land, the buildings or even dare I say it, the staff but the guest. A loyal happy guest is priceless – they will do all your marketing for you. It's so simple. Marketing and operations is one and the same team, always. Finally I would urge them never to enter the debate as to 'who owns the guest' – only the guest owns the guest and only the guest will ultimately decide how to book and where to stay. There are more than enough guests for everyone …. if you run a guest-centric business.
Has the ATTA figured into your business at all? How has your involvement with the attended affected you and your business / career?
Of all the travel communities the ATTA is where I feel most at home. It's an incredible network and has afforded me the following: a community of like-minded travel professionals; an opportunity to understand more about the industry globally; a platform to learn from others and to share my experiences in return; attended the ATWS on four occasions; and finally added value to my company by engaging with new outbound adventure travel companies to Africa and India.