Lima, Peru  –  In early August a group of journalists from the United States, selected in collaboration with the Adventure Travel Trade Association (ATTA), traveled to Peru on a journey of discovery.  The objective was to discover Peru's best — Cusco, the Sacred Valley of the Incas, and the world-renowned ruins of Machu Picchu — from a unique new vantage point: the trails and little-known villages of Lares.
To kickstart the adventure, an elegant typical Peruvian welcome dinner was served at Lima's prestigious Amoramar restaurant followed by a short flight to Cusco and the group's first highland stop, the five-star Tambo del Inka Hotel in Urubamba. Peru's Sacred Valley is a magical place with high peaks, a rushing river and a romantic rural landscape that has changed little since the time of the Incas. It also boasts impressive archeological sites and vibrant local communities housing colorful craft markets, artisan shops, yoga retreats and gourmet restaurants. A day of rest here allowed time to acclimatize and explore the valley — including Tambo del Inka's amazing spa! — at everyone's individual pace.
Ready for action, the group next embarked on The Lares Adventure to Machu Picchu with Mountain Lodges of Peru. This wonderful alternative to the more heavily traveled Inca Trail brings the Andes alive through a flexible itinerary built upon an a-la-carte menu of activities for travelers of all interests and abilities. Hikers enjoy breathtaking trailside views while cultural enthusiasts opt to visit iconic archeological Inca sites or discover modern Andean life via intimate encounters with local farmers, partaking in ceremonial rituals, and exploring remote mountain communities. Deluxe amenities and warm Andean hospitality are hallmarks of all Mountain Lodges of Peru's properties, and the two new lodges in Lamay and Huacahuasi are no exception. Details on MLP's joint venture with the local community in Huacahuasi also provided insight into the new era of "conservation travel" the founders hope to usher into Peru.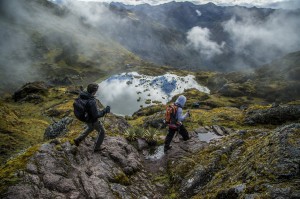 Among many trip highlights, journalists raved about their hike to the community Viacha, near the archeological site of Pisaq and the special pachamanca dinner that followed (a meal in which traditional foods are cooked under hot stones). Many also spoke of their meeting with Señora Maria (a well-known weaver in the village of Choquecancha) as well as the time they spent on the trail over the "Qhapaq Nan" Inca Road (a new UNESCO World Heritage Site). And of course, the top highlight of any trip to Peru remains: an early morning visit to Machu Picchu Sanctuary with a hike up Huayna Picchu. With this long list of "wow" factors, no doubt we'll be reading more about this memorable journey in the press over the weeks to come.
Contributing members are responsible for the accuracy of content contributed to the Member News section of AdventureTravelNews.