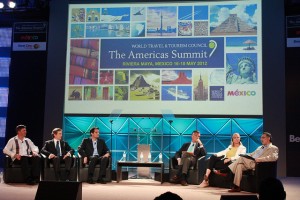 Adventure Travel Trade Association President Shannon Stowell recently returned from moderating a panel at the World Travel & Tourism Council (WTTC) Americas Summit, which convened  in Riviera Maya, Mexico, May 16-18, 2012. The annual Global Summit traditionally brings together global leaders in the tourism business and governments to strategize around industry development; this year's event focused on regional issues and was co-chaired by WTTC President and CEO David Scowsill and the Mexico Tourism Secretary, Gloria Guevara.
Stowell moderated an expert panel on "Succeeding with Sustainability," which included the following participants:
Jose Napoleon Durán, Minister of Tourism, El Salvador
Chris Brophy, Vice President of Corporate Sustainability, MGM Resorts International
Robin Tauck, Founder, R Tauck & Partners
Andrés Pan de Soraluce Muguiro, President, OHL Developments
José Koechlin, Chairman & CEO, Inkaterra
Notable presenters included Mexican President Calderón, Taleb Rifai, Secretary General of the UN World Tourism Organization, WTTC Chairman (and Chairman of the Executive Board of TUI AG), Michael Frenzel, entertainment celebrity and environmentalist Robert Redford, and a variety of government heads, major travel corporation CEOs, entrepreneurs and well-known philanthropists. 
"The WTTC made a real commitment to the subject of sustainability by including this panel in the limited and valuable 'real estate' of the event. I am encouraged by the conversations held following the panel as many leaders in the industry do want to move the needle towards sustainability in this space. Tourism delivers almost 10 percent of global GDP and we can make a real difference by focusing on sustainability. And we must- tourism relies heavily on nature and culture and so it is critical that we get it right," said Shannon Stowell, president of the ATTA.
Check out actor Robert Redford's thoughts on the power of tourism.
The entire "Succeeding with Sustainability" panel can be viewed here: