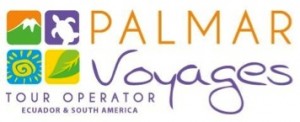 PalmarVoyages has 22 years of running as a tour operator and travel agency in Ecuador. We provide our clients and our partners market the greatest benefits, as well as first-class service. We don't like angry faces, so we do everything to fulfill your requests and demands hoping to convey a smile.
We offer the most wonderful destinations in a land full of charm, mystery and magical landscapes along with species that are unique in the world and at the same time a land full of adventure, rivers where you can release your adrenaline and trails or paths that will make you fell strong emotions.
Our Galapagos cruises and tours with activities like snorkeling and diving will take you to discover a new world under the sea. On land you will venture into the islands to see birds, mammals and reptiles that you'll not find anywhere else.
The tours in the mountains you can enjoy all your preference, whether riding through the fields, cycling through the imposing mountains as Cotopaxi and Chimborazo, rafting down one of the many rivers or walking through the Rain forests and observing the nature and birds that surround its charm.
In the Amazon you must hold on well your belongings, because flocks of curious monkeys likes to steal off pockets and backpacks. The rivers will transport you up to a meeting with ethnic tribes and communities of Ecuador who will wait for you with a cheerful welcome to teach their customs and rituals. Also on the beaches of Ecuador you can be adventurous surfing the big waves of Montanita or simply relax on the sand watching the sunset in Puerto Lopez. And if you are interested, also the ruins of Machu Picchu in Peru and the rest are within our reach. We will plan for you unforgettable experiences.
No matter whether are large groups, medium or small or if you come in pairs. Also Incentive travel, business, but especially adventure trips, anyway, we can welcome them all with joy. You can choose one of our pre-set programs if you like them, or we can build one step by step go according to your wishes and general interests about this beautiful country and the activities you would like to do here.
We want you to know all these aspects of Ecuador and what Palmarvoyages can offer to you putting at your service our hard work to create unforgettable moments in the lives of our visitors. As Tour Operators we know that teamwork is essential to achieve our goals and make things on the right way, so we hope to create strategic alliances and important links with many of you, so we can encourage our work much like yours in the different locations that each of us offers. Through ATTA and The HUB we hope to make new friends all over the world with whom we can share experiences and interests as businesspeople, colleagues, tourists, travelers, adventurers and especially lovers of life and the world.
Click here to connect with PalmarVoyages on ATTA's online member community The HUB.