After the award-winning RFIDsafe™ 50, Pacsafe® leaders in anti-theft travel gear create full RFID-blocking accessory line using innovative material.
HONG KONG: The RFID-tec™ line is a lightweight, fresh, fun, durable collection boasting complete RFID-blocking technology.  Light, breezy colours and subtle tech patterns are complemented with contrasting detailing to create a playful, casual feel that's perfect for active travellers, sport enthusiasts and the young-at-heart. An  elastic contrasting strap also offers easy access to valuables, when and as travellers need them.  Utilising the same smart RFID-blocking material as the award-winning RFIDsafe™ 50, each RFID-tec™ accessory is durable whilst still being flexible and has an incredibly soft hand feel, which is unlike most RFID accessories currently out on the market today.

RFID-blocking bi-fold wallet
RFIDtec™ 100
Slim and sporty, this lightweight wallet perfectly slips into your pocket  or travel pack. The whole wallet blocks out RFID transmissions ensuring all your identity cards, credit & bank cards are safe from potential identity thieves, whilst the smartly zippered pocket for cash adds an extra barrier against opportunistic pickpockets.
RFID-blocking compact organiser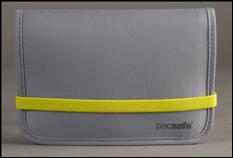 RFIDtec™ 150
This deceptively small organiser packs more than it looks and can hold, organize and protect all key travel documents from opportunistic RFID thieves. With several credit card slots, zippered pockets and a transparent passport slot , you'll have everything where you need it, when you need it. Say goodbye to fumbling around at customs!
RFID-blocking ticket wallet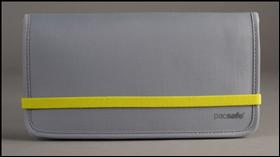 RFIDtec™ 150
Slim, sporty and practical this ticket wallet is an essential travel companion. Transparent pockets keep everything visible and easy to find, whilst several orgnisational compartments take care of your bank, credit and ID cards.
RFID-blocking women's wallet
RFIDtec™ 200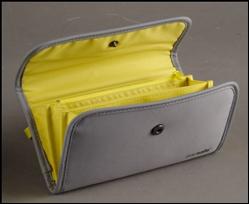 This well-thought out, lightweight women's wallet is an ideal every day wallet to store cards, money and even fits a passport in for when you travel. Different  sections are perfect for separating currencies, while the transparent coin pocket helps you find the right change, when you need it.
Colours available: Cool Steel with a lime liner or Shadow with a tangerine liner
Available in stores from: January, 2012
Appendix:
RFID-blocking
After the award-winning success of the RFIDsafe™ 50 and its innovative smart RFID-blocking material, we have applied this to pockets in our bags to prevent identity thieves from stealing and downloading sensitive personal information from passports, bank and credit cards. The copper and nickel weave is unlike most other RFID wallets which comprise of the less effective, more corrosive and more toxic aluminium.
RFID Facts
Most credit cards and passports have an electronic RFID chip built into them—this chip actually transmits a signal that contains information about the owner to various scanners when making a purchase or when going through passport control. However thieves can easily buy RFID readers and download your information from up to 20ft away and you'll never know.
11 million Americans were victims to identity theft in 2009 (Javeline Strategy & Research 2009) . In 2010 8.1 million Americans were victims of identity theft.
Financial losses in the US totaled US$50billion a year (www.identitytheft.info)
1 in every 10 American consumers has been a victim of identity theft
1.6 million households have had their bank accounts compromised
Worldwide businesses lose $221 billion yearly to identity theft
The average amount taken from each identity theft victim amounts to $4,841USD (roughly 3 months worth of full-time work's wages)
50% of victims only learn of their identities being stolen within 3 months
It takes an average of 330 hours to repair the damage caused by identity theft
·        In some cases it can take up 5,840 hours to correct the damage done by identity theft
Contributing members are responsible for the accuracy of content contributed to the Member News section of AdventureTravelNews.