One Ocean Expeditions' (OOE) investment in education has been a priority since the company's inception over a decade ago. The nation's leading expedition cruise operator is thrilled to launch an innovative post-secondary geography field course in partnership the University of Ottawa and University of Waterloo. The 3-year pilot project program focuses on practical learning that introduces students to notable geographic areas and communities in the Canadian Arctic allowing them to study on-site in real time.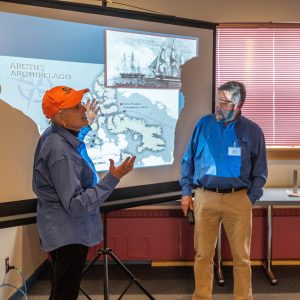 The program supports One Ocean Expeditions' core mandate to provide immersive and experiential educational programming. OOE has long since believed that by hosting world-renowned experts, educators and students alike, guests benefit greatly from the interaction, conversations and collaboration in destination.
"Being able to increase the accessibility of field school education is a point of pride for OOE," explains OOE's General Manager Catherine Lawton. "By backing these programs students are able to travel to remote and fragile regions not only to study them, but to share their knowledge and passion with our guests. This inspires learning experiences for all onboard that, in turn, create ambassadors for the region."
With a focus on learning first-hand about the Canadian Arctic, students study a variety of areas including physical geography (land masses, ice formations), human geography (settlement patterns, food and diet, social issues), wildlife and glaciology. Over the course of the 3-year program, itineraries and curriculum are being developed by Instructors Christine Dow and Natalie Carter from University of Waterloo and University of Ottawa respectively.
Along with the development of the field school program, OOE has implemented a satellite-based video conferencing technology that delivers virtual education to students across the world. In partnership with Connected North and Ocean Wise, the 'CISCO' unit has successfully completed several broadcasts from remote regions such as Antarctica directly into classrooms around the globe.
OOE is also a proud long-term partner of the CanGeo Challenge, a yearly event that sees thousands of students compete in a test of geographic knowledge. Each of the five finalists receive a berth on OOE's 'Fins and Fiddles' voyage, which takes the students on an exploration of Canada's East Coast, experiencing Canadian geography first-hand.
After announcing a partnership with the Recreation and Parks Association of Nunavut (RPAN) in 2017, One Ocean Expeditions continues to work with the organization in their commitment to enhancing the quality of life for communities in Nunavut through recreation. This summer will see the arrival of a floor curling set, donated by OOE and brought to Nunavut on the Baffin Island and Greenland Explorer voyage by Olympic curler Jill Officer.
One Ocean Expeditions is proud to facilitate world leading research and education with partners such as Ocean Wise, Oceanites, California Ocean Alliance, South Georgia Heritage Trust and the Scott Polar Research Institute.
Contributing members are responsible for the accuracy of content contributed to the Member News section of AdventureTravelNews.