Last month Mary King took a well-deserved break out of her Olympic training to host a Botswana safari for riding holiday specialists, In the Saddle.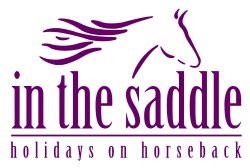 Just as Monaco is synonymous with Ferraris and Formula 1 drivers, the Okavango delta in Botswana is all about big game viewing. What better way to view it than on an exhilarating horse safari. The riding can be fast and a real adrenaline buzz, so it's no wonder the list of previous visitors to Macatoo camp reads like a veritable who's who of the eventing world.
Most recent to experience this remote and stunning region of Africa is three-day event rider and five-time Olympian Mary King. "I've been on horse safari before but the riding was relatively quiet. The thrill of the Okavango delta has always appealed to me, I like a bit of excitement," she says in her typically understated way.
For Mary King 2012 will be a high pressure year. With two horses on the Olympic short list – Kings Temptress and Imperial Cavalier – Mary needs good performances this spring to secure a place on team GBR for her sixth successive Olympics. But from speaking to her you would never know – she seems the epitome of calmness, a quality she says she gets from her mother.
"When In the Saddle asked me to host this holiday, I thought it was an amazing opportunity and a fantastic chance to spend some time with my family before the start of the eventing season. My horses probably enjoyed a week off from me riding them," jokes Mary.
Getting to the Macatoo camp itself isn't an experience for the faint hearted. After flying by light aircraft from Maun and landing on dirt airstrip in the bush, the final leg of the journey is by open-topped safari vehicle. There are no worries about snow or volcanic ash affecting your flight here, but elephants on the runway may cause a delay.
The tented camp is well equipped with en suite facilities and there is a real feel of being close to nature, with wildlife able to come and go as they please. The lack of mobile phone reception makes it the perfect place to relax and take some time out, recalls Mary. As well as her family – husband David and children Emily and Freddie – the group is diverse with riding-holiday virgins, veterans and non-riders.
The Okavango delta is the world's largest inland delta, formed seasonally when the Okavango river floods into a 15,000km2 basin, forming an intricate network of islands, lagoons, grassland and waterways. Mary visited Botswana in February and, despite the high temperatures of up to 40 degrees centigrade some days, it was a good time to visit the delta with the water rising and running but still plenty of dry land.
The bush is green as the delta rises and home to a plethora of birds and wildlife. "We saw most of the big 5 – Lion, African elephant, Rhino, and Cape buffalo. Leopards were around, though we only saw photos of them on an overnight trail camera together with their prints on the ground," says Mary. "The water is home to crocodiles which is an added adrenalin buzz when on horseback."
"The riding was fast, with plenty of galloping across the plains and dodging in and out of bushes. It was breathtaking galloping alongside giraffes and watching them moving in, what seemed to us, slow motion compared to our horses."
For Mary the highlight of the trip was the elephants. On horseback you can ride right up to the herd, she explains.
"The bull elephant turned and looked at us as we got close and trumpeted, flapping his ears in annoyance. As the bull elephant moved towards us in warning, the horses tried to spin in the knowledge this was a potentially dangerous situation!
Our experienced Guide made his horse stand its ground facing the elephant and there was a lot of shouting. He then took a few steps forward and after more ear flapping the elephant turned away and the danger had passed."
Still buzzing after a long day in the saddle, back at Macatoo camp the fun continued into the night with favourite moments of the day shared over supper and Mary proving to be the queen of party games!
For further information on worldwide riding holidays visit the In the Saddle website www.inthesaddle.com Tel: 01299272997 email: [email protected]
Contributing members are responsible for the accuracy of content contributed to the Member News section of AdventureTravelNews.