Video underscores brand connection to people who make adventure a part of daily life.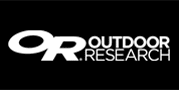 Seattle, WA. – Adventure can be found anywhere: close to home or halfway around the world. But adventure is most inspiring when it's a way of life, and ultimately an ongoing source of fun, rather than a distant memory or an image from a far-flung destination.
In a new video that pays homage to the roots of the brand, Outdoor Research, the independent, Seattle-based manufacturer of outdoor apparel and accessories, celebrates the Relentless Adventurer – the brand loyalist it sees as the company's core customer since its inception in 1981.
Many outdoor brands put the spotlight on famous athletes doing pinnacle rock climbs or ski descents in the world's most extreme and remote places. One enduring quality at Outdoor Research, by contrast, has been building products that – while they do routinely excel on trips to the world's most harsh environments – are also heavily informed by the brand's relationship with people who are serious about adventure as a part of daily life. People who, whether they are weekend warriors or professional guides, don't compromise in the search for whatever kind of challenge it is that drives them. And thus don't compromise on their gear, either.
Outdoor Research's new brand video works to capture the company's connection to that kind of adventure, and that kind of brand loyalist, because those relationships are so instrumental in making the company what it is today, said Dan Nordstrom, CEO of Outdoor Research.
"The goal was to capture the spirit of our brand with people having everyday adventures in their own neighborhoods," Nordstrom said. "We're all about the idea that we can all have experiences that keep us psyched without travelling 5,000 miles and spending tons of money.  It's become cliché to show athletes you'll never meet, in places you'll never go, doing things you can't do.  We see it from the opposite perspective – our friends are doing amazing things close to home all the time.  We want to celebrate the idea that adventure is everywhere."
The video was shot by Unparalleled Productions, and follows real Outdoor Research customers, friends, family and athletes on real adventures. As much as focusing on the outdoor activities themselves, the goal was also capturing the moments leading up to and after them to depict how the whole experience shapes people who have an adventurous mindset, said Director Josh Murphy.
"Adventure can be found anywhere if you choose to look for it, and that really sums up the state-of-mind for a lot of Outdoor Research's fan base," Murphy said. "That's really the driving force behind the brand itself, and that's what we wanted to capture in this piece."
Contributing members are responsible for the accuracy of content contributed to the Member News section of AdventureTravelNews.