"Go there. Look. Respect."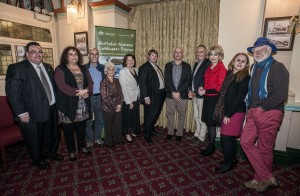 Renowned bushwalker and conservationist Wynn Jones used many combinations of words to urge appreciation for the environment when he spoke at a welcome function last Wednesday [July 24] for delegates from the 16 most precious natural treasures in the country.
Australia's National Landscapes annual forum was sponsored by Blue Mountains Lithgow & Oberon Tourism (BMLOT) and the Fairmont Resort MGallery and hosted by Tourism Australia and Parks Australia.
It involved a range of functions and activities including a conference, book launch and "50 shades of blue" dinner to which delegates were invited to wear blue clothing in honour of the Blue Mountains.
Greater Blue Mountains National Landscapes chairman Randall Walker said the Greater Blue Mountains was delighted to host this year's annual forum, particularly during the first year of the Blue Mountains Crossings Bicentenary 2013-2015.
"The wonder and awe felt by the first recognised European party to cross the Blue Mountains when they saw this majestic landscape has never waned and we are very blessed to be its custodians now."
"The Greater Blue Mountains is a place of extraordinary wild beauty."
"Why wouldn't we be anything but thrilled to showcase our landscape to people who appreciate what is regarded as the best collection of landscapes in Australia and the magnitude of responsibility that comes with it because they share that duty in their own landscapes."
"Of course the Greater Blue Mountains measures up to Uluru, Ningaloo – Shark Bay, The Kimberley, Kangaroo Island, the Great Ocean Road, the Great Barrier Reef, Uluru Kata Tjuta, Kakadu, the Wet Tropical Rainforests of North Queensland and the Wilderness of Tasmania but we are proud to be among this elite group nevertheless."
Mr Walker said the Greater Blue Mountains delegation was excited to present an update of its indigenous tourism development program and Aboriginal elder Aunty Sharyn Halls presented on the Gundungurra Ancestral Pathways walk and Aunty Sharon Brown on the Gundungurra guided interpretive songlines walk.
Delegates also learned about the Greater Blue Mountains' enhanced low carbon tourism project, along with an outline of the region's bids to host the 2015 Adventure Travel World Summit and World Indigenous Tourism Alliance, all of which were well received.
Managed by Tourism Australia and Parks Australia, the National Landscapes program aims to protect Australia's most significant natural areas and their surrounding regions by promoting nature-based tourism experiences.
The program was inspired by a realisation that around the world the term "National Park" was a prime brand name for tourism.
However, while globally national parks are usually few but significant Australia has more than 600 national parks and protected areas, an impressive yet overwhelming number for travellers to navigate and digest.
So Australia's most iconic landscapes were identified – those which captured and promoted areas of outstanding natural beauty and cultural significance – and included in a program to help ensure their protection.
The Greater Blue Mountains was named as one of the first eight in June 2008. (Another eight have since been listed, completing the collection of 16.)
Tourism Australia industry development manager Leigh Sorensen said the Greater Blue Mountains "is one of Australia's iconic destinations, not only for us but for international visitors".
"Our research shows that nature is the biggest motivator and attraction for visitors – the Greater Blue Mountains is a case in point."
The Australia's National Landscapes annual forum began with a welcome function at Blue Mountains Cultural Centre, during which Greater Blue Mountains National Landscape vice chairman, BMLOT executive director and NPWS regional manager Geoff Luscombe was emcee.
As well as about 60 delegates from the 16 national landscapes, the function was attended by Blue Mountains Mayor Daniel Myles, Lithgow Mayor Maree Statham and Councillor Ross Higlett, Blue Mountains State MP Roza Sage and Macquarie Federal MP Louise Markus.
Clr Myles said the council took its role in caring for the landscape "extremely seriously" and praised partnerships with other organisations such as NPWS: "We all understand the importance of caring for land, caring for country and keeping it for the generations to come."
He also acknowledged the "terrible cost" European settlement of the region had on Aboriginal people and stressed the importance of working with indigenous people now and in the future.
Blue Mountains Cultural Centre director Paul Brinkman encouraged the gathered guests to browse the new centre, which "reflects the landscape" in which in sat, from its sandstone coloured layered brickwork and scribbly bark patterned carpet to the fact that viewers can see through the building.
During his impassioned speech infused with poetry Wynn Jones pleaded with the audience to visit his beloved Blue Mountains bushland, home to 400 animals and 2000 plant species including nearly 100 species of eucalypt; enjoy it and then fight for its conservation.
"The stories must be told; the mountains must be walked, not conquered," he said. "Go and do it quick – it will make your life longer."
"Go and stand at Echo Point tomorrow. Close your eyes and smell the eucalypts and listen to the bellbirds and think of [poet] Henry Kendall."
Jones spoke about the Greater Blue Mountains specifically, but his message could be applied to all of Australia's environmental wonders.
Contributing members are responsible for the accuracy of content contributed to the Member News section of AdventureTravelNews.