The Adventure Travel Conservation Fund (ATCF) is pleased to welcome MiiR as its newest Adventure Leader member. Adventure Leaders are distinguished ATCF members leading the way in their fields to conserve natural and cultural resources of international adventure travel destinations. These members play a critical role in supporting ATCF operations, allowing the organization to run and manage a successful grant program. By signing on as an Adventure Leader, these companies make a three-year commitment to contribute $25,000 annually.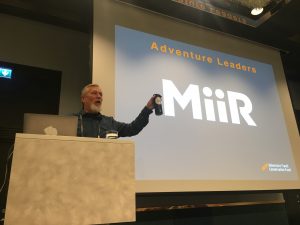 "We are already funding nonprofit work around the world, but would love to see a focus on adventure tourism," says Charlie Clark, Director of Impact for MiiR. "MiiR has a goal to develop an internal travel program which would highlight partners, projects and adventures which are part of our company's greater ecosystem. We see this relationship as an excellent opportunity to not only help drive positive change but be connected to a robust network of like-minded groups."
The ATCF came into existence in 2017 with organizations in the adventure travel and outdoor retailer industries uniting to support and catalyze conservation and environmental protection efforts worldwide. Since its inception in 2017, the organization has awarded $235k towards 10 projects in 9 countries in just two short years.
The ATCF began its Adventure Leader membership when the organization began, and with MiiR joining, it now has six Adventure Leaders: ExOfficio, the Adventure Travel Trade Association, Eagle Creek, Backroads, REI Adventures and MiiR.
Contributing members are responsible for the accuracy of content contributed to the Member News section of AdventureTravelNews.