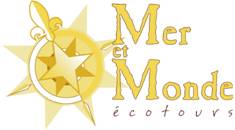 Mer et Monde Ecotours is a tour operator or a outfitter (in Quebec) that provides sea kayaking, guided excursions with interpretation and whale watching; operates a sea kayaking school recognised by the Quebec Federation of Canoe and Kayak; and operates a little rustic campground and a little internet coffee-bistro.
Our sea kayak activities, expeditions and package are for all, even those without any experience, take place in the St-Lawrence estuary and the Saguenay-St-Lawrence Marine National Park. Certified guides will accompany you on these activities. All our customers use tandem kayaks.
In order to ensure your safety and your comfort, all our activities include all necessary equipment. Camping on wood platform is also available and watch whales right from your tent.
Our company is a pioneer and a leader in sea kayak activities in the Quebec province and is well known for the high standard of quality and safety. We have been in business for 20 years now and can accommodate individuals as group of 100 persons. Mer et Monde Ecotours has frequently been awarded from the tourism ministry of Quebec and in 2008 received the  National Silver Award in the ecotourism and adventure tourism category.