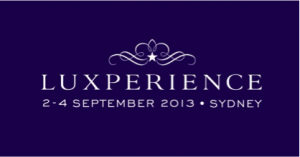 Luxperience is THE luxury travel event based in the Australasia and Pacific region that connects high end experiential travel providers with exclusive buyers in a three day business exchange from 2 – 4 September, 2013 in Sydney, Australia.
At Luxperience, we are dedicated to providing the luxury and high end experiential travel industry with a place where ideas can come to fruition and grow through collaboration.  So think of Luxperience as one communal table where connecting is paramount, business is done and lifelong meaningful business relationships are guaranteed.
Invitation Only
Luxperience is an exclusive, invitation-only event. Only the best travel providers of niche travel experiences and the most experienced achievers, those who have a proven track record of creating bespoke itineraries that include unique, authentic, unusual and out of the box travel experiences are invited.
Why ATTA?
At Luxperience, we believe that luxury is in the experience, and that the experience is only half of the adventure. Luxury travellers are now seeking more than what money can buy, they want life changing experiences and our aim is to foster this desire. ATTA is an Official Partner of Luxperience 2013 and Executive Director of North America & Oceania, Chris Chesak, will be attending.
To receive your exclusive invitation, email Laura Molesworth, Senior Sales & Event Coordinator at [email protected]
Click here to connect with Luxperience on ATTA's online member community, The HUB.