Viva Expeditions has been saving $5 on every booking, creating a pot of money that will be loaned to women running small businesses in Latin America. The money is loaned through Kiva and will get repaid. The same dollars will later fund many more businesses. A virtuous cycle that Viva hopes will touch hundreds of lives in South America. Viva has named its new microfinance scheme 'Chola Dollars' and will continue into and past 2020.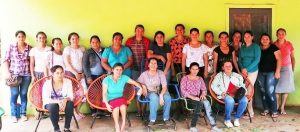 As it's the season of giving, Viva made its first loan of $840 on the 10th December to a group of entrepreneurial women in Paraguay. The loan will help the group purchase products to resell. The loan will eventually be repaid and will fund another small business that needs a little help. Lend. Grow. Repay. A virtuous circle that will only grow as more money is injected into the scheme.
Chola Dollars was influenced by the Viva Expeditions logo, a symbol of Viva's identity and values. Viva is a travel company born from a love of South America, a passion for its people and culture. Its logo features a cholita; a woman that you'll likely see on your adventures in Latin America. Often dressed in 'traditional clothes', bowler hat and a thickly layered skirt.
To Viva, a cholita is a tough women, somebody that works hard, often in high altitudes and in difficult climates. Viva's aim is to provide a little support and empower the cholitas and women of Latin America through micro-financing projects.
The microfinance schemes will help create an infrastructure, grow businesses and empower women to improve their lives. Schemes can launch retail businesses, buy ingredients and purchase construction materials. Once the loan is repaid, the Chola Dollars will go back in the pot and Viva can support and empower more women across South America.
Rachel Williams, Viva Expeditions founder, says, "When we celebrated our 10th Birthday on the 3rd October we decided to give something back to South America. Without the amazing people and places we visit, Viva would simply not exist, so it's important that we say thank you. This loan will only grow with time as we continue adding to the pot. It will help create an infrastructure to strengthen businesses and empower women to improve their lives. We hope these hundreds will eventually turn into thousands making a tangible positive impact on the places we visit."
Contributing members are responsible for the accuracy of content contributed to the Member News section of AdventureTravelNews.