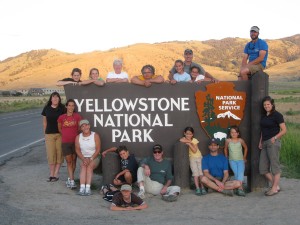 Billings, MT – Award-winning tour operator Austin-Lehman Adventures (ALA – http://www.austinlehman.com/), the active travel company setting family adventure vacations standards in The Americas, Europe, Africa and Caribbean, will engage youngsters in a 45-minute online and call-in focus group webinar at 4 p.m. EST on  Sunday, April 15. See: http://www.austinlehman.com/kasey-webinar-pages-612.php
The purpose of the focus group is, said Dan Austin, ALA's founding director, "to stay ahead of the pack, improve upon what we're already doing great and keep up with new trends and learn what ages 7 to 17 now look for on an active family vacation."
Austin-Lehman Adventures is inviting offspring of alumni, prospective guests and the general traveling public to explore "What Kids Want on a Family Adventure Vacation".  Newly appointed CEO (Chief Entertainment Officer) Kasey Austin will lead the young-people-only discussion focused on eight questions presented in an interactive online survey.
"This is an ongoing research project and dialogue between ALA and its guests, fans and family to constantly improve and enhance the ALA trip experience," said Austin. "Our summer guests will benefit from the ideas that come out of this focus group discussion." Findings will be integrated into ALA family trip programming and orchestrated with guides during ALA's annual spring Guide Training May 31-June 4 in Billings, MT.
Austin urges kids to sign up early online. The first 25 participants will receive a "certified cool" ALA gift and goody bag. Their family will receive a $250 trip voucher good for any 2012 ALA trip.
The eight multiple choice questions they will debate are:
1)    What is your favorite outdoor activity that you like to do on vacation?  
2)    If you could think back to any past vacations you've taken with your family, what was the best part of that vacation?  
3)   Where do you like to go most on vacation?  
4)   What trait is most important in the perfect family tour guide?  
5)   Sometimes we have long van rides to get from one place to another. What could make these van rides more fun?  
6)    What kinds of games (indoor or outdoor but video games don't count) do you like to play?  
7)    What is the animal you most want to see in the wild?  
8)    How does your family go about planning a summer vacation?   
To register for the online focus group kids are instructed to go to: https://www1.gotomeeting.com/register/571338808.  After signing up and confirming they have their parent's permission to participate, kids will receive a confirmation email containing information about being part of the Webinar.
Contributing members are responsible for the accuracy of content contributed to the Member News section of AdventureTravelNews.