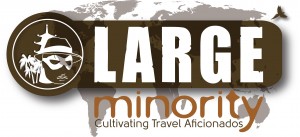 LARGE minority is a fresh travel movement dedicated to creating meaningful travel adventures – our inimitable travel experiences are quite simply the ultimate road-tripping journey.
From cruising in Asia on three-wheel stallions to exploring the mighty Amazon jungle in South America, we're ready to test your boundaries! Make no mistake – our journeys are mentally and phisically challenging. Your instinct will become your "modus operandi", you will soon forget your real name, dream in a foreign language and eventually become as local as the locals!
Check out our tuk-tuk Challenges in Cambodia and Sri Lanka and our More Local travel experiences in Colombia.
We believe that in order to become more local, we first need to understand what local life is all about. So when putting together our travel experiences we always respect the local people and their culture. We also try to master their local ways and customs.
We embrace meaningful travel with a positive direction and concentrate in implementing sustainable community-based projects. This is why we allocate a fix percentage (from our commercial activities) towards projects which are crafted at grass-root levels with community leaders and environmental consultants.
So come join our meaningful adventures!
Click here to connect with LARGE minority on ATTA's The HUB.