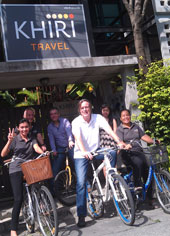 Khiri Travel has been certified in the Sustainable Tourism Education Program (STEP) run by Sustainable Travel International (STI). Khiri earned the award after only two months by satisfying over 20 environmental criteria to meet bronze level certification.
The award designates Khiri Travel as an "eco-certified STEP tour operator." To achieve the accreditation, Khiri was audited on 12 December by an STI eco-auditor who assessed Khiri's past and current actions and future pledges on 21 criteria, including water consumption, supply chain management, greenhouse gas emissions, use of pollution prevention vehicles, buying locally produced products, client education, and receptivity to critical feedback on green issues.
Khiri measured its staff travel over the last year and realized it had to plant 50 trees to offset those carbon emissions. Together with the Plant A Tree Today campaign the company will therefore organize a mass tree planting of at least one hundred saplings in a mangrove forest near Bangkok in April. (Khiri Travel can organize similar activities for its customers.)
"By embracing STEP, we've put a measurable commitment to sustainable practices at the core of Khiri Travel's operations," said Willem Niemeijer, Khiri Travel CEO.
"When we started we implemented not only the required practices, but looked to see what else could be done. For example, we changed all our non-recycling batteries to rechargeable ones and installed motion detectors for the lights in restrooms," he said.
Khiri Travel hired a coordinator to liaise with STI to create a successful range of initiatives that satisfied the STEP criteria quickly. Bronze certification took only two months.
"After we made the strategic commitment, we moved quickly and efficiently," said Niemeijer.
In the STEP program each participating company can work its way from bronze certification (baseline) to silver (intermediate), gold (advanced), and platinum (industry leader).
Niemeijer said that Khiri Travel will consolidate its bronze status in early 2014 and start working towards higher certification goals by the end of the year.
Contributing members are responsible for the accuracy of content contributed to the Member News section of AdventureTravelNews.