Curated collections that "fit like they grew there" make it even easier to get ready for your next adventure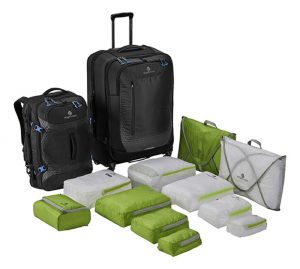 Eagle Creek Ultimate Adventure Gear Kit
Features a cavernous Gear Warrior 32 partnered with new Pack-It Specter Tech™, to fit all the necessary clothes and gear. Designed to take the guesswork out of packing for longer outdoorsy trips.
Excursion Gear Kit
Couples the trunk-sized Expanse Drop Bottom Duffel 32 and Pack-It Specter™ for an action-packed getaway.
Perfect for any cross-country trip, this travel kit will cleverly pack you and your friend up in one bag for lengthy excursions.
From conference room to the trailhead, this travel kit works hard to get you from A to B and back again.
Pairs the international carry-on sized, wheels-or-backpack morphing travel bag for globetrotting wanderers, and mixes it with Pack-It Original™ for tried-and-true organization and space savings.
Weekend Warrior Gear Kit
This gear kit refuses to let you over pack, while ensuring maximum organization for minimal time wasted on finding clothing.
Weekend Warrior Gear Kit blends the best-selling Tarmac Carry-On with best-selling Pack-It Specter™ for fast organization wrapped in responsible choices and go-anywhere style.
Family Travel Gear Kit
The Mother of all gear kits. Color coded, rolling-optimized and super charged for supreme organization, this Gear Kit is designed to get the travel crew prepared for any adventure.
The Family Travel Gear Kit, which includes two giant Expanse bags and all the color coordinated Pack-It Specter™ needed to fill them up for road-ready fun.
Contributing members are responsible for the accuracy of content contributed to the Member News section of AdventureTravelNews.