Given the staggering social and economic needs that are evident in most African countries – Jenman Safaris has partnered with three very special programs, to enhance their tours and build on existing social projects that need a helping hand. They have added these partner projects onto their popular 22-day Northern Experience (Cape Town to Victoria Falls) safari for selected departure dates.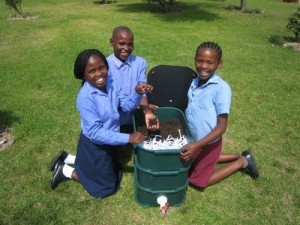 VOLUNTOURISM project one – Cape Town: Join Jenman Safaris at one of their partner projects, where they support a local township school in Khayalitsha. This project promotes social change and activism among the most impoverished – kids in the townships. Spend the day, helping the kids in their school vegetable garden, participating in their yoga classes, or joining the group for regular story-telling. You will have a guided tour of the school, get a feel for the unique atmosphere of a township in Cape Town, and meet some of the wonderful children who benefit from all the hard work this project has to offer. For every single person who takes part in this project, Jenman Safaris donates a portion of funds to the partner project, which will go directly towards the school.  All additional funding at the school goes towards meals for hungry kids, many of whom get their only meal of the day at school. (http://www.earthchildproject.org/)
VOLUNTOURISM project two – Swakopmund: Join Jenman Safaris at their partner project in Swakopmund, where they assist in teaching fire awareness and safety in the local township.  Fire prevention has become a huge priority in this township, as fires have caused enormous damage and many tragic deaths. The number of fires in the townships is staggering, and often there is no water, and no community emergency services available to assist.  Spend the day with a Jenman guide, providing fire extinguishers to families in their homes, and take part in demonstrations to teach people how to use them properly.  This excursion also includes lunch at a local shebeen. For every single person who takes part in this project, one family will be provided with a fire extinguisher for their home, and Jenman Safaris will donate funds to the partner project in Swakopmund to go directly to the cost of fire extinguishers.  The ultimate goal is to provide every home in the township with at least one fire extinguisher.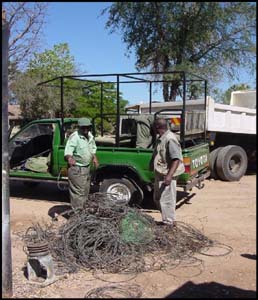 VOLUNTOURISM project three – Victoria Falls: Join Jenman Safaris with their partner project in Victoria Falls, which promotes Wildlife Conservation and anti-poaching efforts in the Zambezi National Park. Spend the first part of the day with a guide, learning the history, challenges, and successes that have been achieved in the anti-poaching operations. Then take a field trip into the Zambezi National Park to record game sightings, identify spoors, patrol and sweep for wire snares, and visit new areas to investigate for any signs of poaching.  Every time this tour is run, the partner project is able to patrol more areas within this expansive park.  As a result, this provides a useful presence at ground level to deter various forms of poaching, and conservation efforts become more effective.  Jenman Safaris donates a portion of funds per participant to assist the partner project in these conservation efforts. (http://www.vfapu.org/)
The cost: Jenman Safaris has made a decision towards "Responsible Tourism" – which is that they do NOT MAKE A PROFIT during the running of these day trips.  After basic expenses are covered – vehicle maintenance, petrol, guide, food (where necessary) – the remainder of money paid goes into the projects.  Jenman Safaris guarantees a minimum donation each time we visit one of our partner projects, and any excesses will be donated thereafter.   The VOLUNTOURISM add-on package is R1500 per person. (Over the cost of the normal package)
Come to Africa with Jenman Safaris, and become a 'VOLUNTOURIST!" To find out more information contact Jenman Safaris on [email protected] or visit their website; www.jenmansafaris.com
Contributing members are responsible for the accuracy of content contributed to the Member News section of AdventureTravelNews.