The National Geographic Traveler magazine selected a trip to Nunavik, from ecotourism specialist ENF Canada, to appear in its 2011 Tours of a Lifetime issue.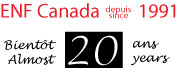 On April 20th 2011, National Geographic Traveler announced its famous selection of 50 Tours of a Lifetime to appear in its upcoming issue. It is with surprise that we at ENF Canada learned that the «Inuit Odyssey» tour was selected from a large number of applicants from around the world. This adventure is the result of a partnership with Inuit organisations from Nunavik, and we are very happy to be one of the two organisations selected from Canada.
20 Years of Ecotourism
This selection also marks an important anniversary for ENF Canada. 20 Years of development, leadership and involvement in the tourism industry. Since 1991 ENF Canada offers high quality experiences and outstanding service in Quebec. Even if recent years have been difficult for numerous organisations, ENF Canada remains a leader and is planning to increase its presence on international markets. This recognition by the National Geographic Traveler magazine also launches a series of new adventures to be released throughout the year.
«Inuit Odyssey» is the result of a partnership with Inuit Adventures and Aventures Kangiqsujuaq, two Inuit-owned organisations from Nunavik. Showcasing the strengths and unique features of each partner, it is based on a fair share of investments and especially results. Transparency is fundamental and maximizing the local benefits is a core principle. ENF Canada is involved in the Adventure Travel and Ecotourism industry for several years, is a certified member of AEQ (Aventure Ecotourisme Quebec) and is in close contact with ATTA (Adventure Travel Trade Association).
http://travel.nationalgeographic.com/travel/tours/
Contributing members are responsible for the accuracy of content contributed to the Member News section of AdventureTravelNews.