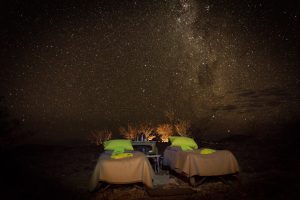 Ultimate Safaris has from the onset been synonymous with pioneering safaris in Namibia. Driven by an explorer-type determination and enthusiasm, we started by operating relatively lightweight mobile camps in impossibly remote corners of the country, but we have now moved on in committing to help preserve some of these wild places that have captured our hearts and our imagination.
Last year saw the introduction of our first exclusive seasonal camp, //Huab Under Canvas. It has been a phenomenal first season with fantastic guest feedback, ranking the //Huab experience amongst the best Namibia has to offer. Our guests are taken care of by some extraordinary people whose only desire is to ensure that each moment spent with us is as perfect as possible. From being pampered in camp, to having days filled with thrilling encounters (our first season saw 100% success in our engaging rhino tracking activity) and enjoying nights entranced with exclusivity beyond most people's expectations, our guests are looked after by a tribe of magicians who aim to leave lasting impressions – and it goes without saying that the tribe members know exactly what is expected of them to create unique experiences.
Booked on an exclusive basis (regardless of the number of participants), //Huab Under Canvas is redefining luxury, going back to a foregone safari era and foregoing some of the creature comforts of permanent camps or lodges of the modern safari era. This means that guests are unencumbered by buildings and all the paraphernalia that goes with them, trading that for a true 'back to nature' experience that connects with the earth, culture and wildlife in a very up-close and personal way. We have identified a strong desire in many travellers to go back to the roots of safari, to touch, smell, feel and experience the wild, with their feet firmly in the dust that covers Africa. This is an experience that is exclusive in the real sense of the word, as well as being very much away from it all! //Huab Under Canvas is the epitome of this, creating life enriching experiences.
2017 will see a number of new experiences offered at //Huab Under Canvas, and one of these is our new STELLAR ESCAPE. Known in other parts of Africa as a sleep out or sky bed, our Stellar Escape is set in an ancient dry riverbed on our private concession in the //Huab Conservancy, offering crystal clear skies with nothing between you and the brilliant stars of the Namibian night sky, where satellites, galaxies, shooting stars and the occasional significant meteor can all be seen with the naked eye. Guests are escorted on their Stellar Escape by their guide, normally starting with a leisurely late afternoon walk, arriving in time for a cocktail or two while enjoying the sunset. A sumptuous bush dinner is prepared on an open fire by one of our magicians, and this can be enjoyed whilst the night sky comes into full splendor. After an astronomy tutorial by your guide, and once you are ready to retire for the night, your crew will leave you with a radio (for communication in case of an emergency) and leave you for an enchanting night under a billion stars, in complete privacy – although your guide can spend the night a discreet distance away if so desired. You will be woken in the morning by a spectacular sunrise and your favourite hot beverage, before returning to camp to freshen up and have breakfast.
Contributing members are responsible for the accuracy of content contributed to the Member News section of AdventureTravelNews.