Taking selfies on a wildlife expedition can be a challenge when it is polar bear standing behind you. Often a member of an Expedition Team will capture that singular moment for you. One man behind a lot of extraordinary photos is Arctic Kingdom's Scott Rosborough.
In the words of Scott Rosborough: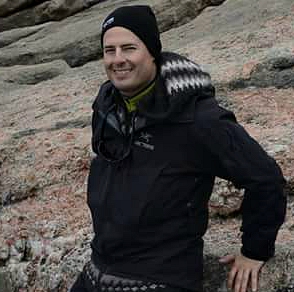 "My interest in the Arctic was developed early on from hours spent reading my collection of National Geographic magazines from the 1930s, 40s and 50s. Once completing my formal education and obtaining my Chartered Accountant designation in 2008, I finally indulged my interest in the Arctic, making my first journey to Nunavut for a two‐week trek in Auyuittuq National Park. It was here where my interest became a passion."
Since that first journey, Scott has immersed himself in Arctic environs numerous times with multi‐week treks on Baffin, Axel Heiberg, and Ellesmere Islands, as well as paddling on the east coast of Greenland. Each journey has further increased his love of the Eastern Arctic. From herds of musk oxen to the tiniest moss campion flowers, from broad glacial valleys to mountains streaked orange with ore, Scott finds the beauty of the Arctic alluring, undeniable and irresistible. He is a certified sea kayak skills instructor with Paddle Canada and certified guide with Sea Kayak Guide's Alliance of British Columbia.
In his spare time Scott can be found paddling, mountain biking, photographing his journeys and furthering his knowledge of the Arctic by reading about its flora, fauna, geology, and its cultural and human history.
Contributing members are responsible for the accuracy of content contributed to the Member News section of AdventureTravelNews.