Company has already raised $400,000 AUD following April earthquake; New campaign urges travelers to visit Nepal in 2015-16 season to support local recovery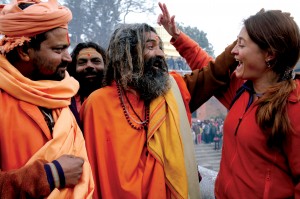 Melbourne, AUSTRALIA – Adventure travel specialist Intrepid Travel has launched a million dollar fundraising campaign that will see all profits from the company's next season of Nepal trips donated to local and international charities working to rebuild Nepal. 
The Namaste Nepal campaign is the latest initiative from Intrepid Travel, one of the largest trekking operators in Nepal, continuing the company's commitment to aiding recovery efforts in the country.
The company's not-for-profit, The Intrepid Foundation, has raised $400,000 AUD ($304,268 USD) to support Plan International's emergency relief support to families in Nepal. 
The money raised through sales of Intrepid's trips to Nepal from September 2015 through May 2016 will be distributed by The Intrepid Foundation to a range of international and local charities such as KEEP, a project that works for porters' welfare and education.
With over 26 years experience in the country and around 200 local employees in Nepal, Intrepid Travel has strong ties to the destination and its people. Intrepid's Kathmandu-based operations team ensured the safe evacuation of travelers after the quake, and are now working closely with safety experts and local authorities to assess infrastructure.
Intrepid Travel co-founder Darrell Wade will be visiting Nepal in June to meet with staff in Kathmandu, as well as local and international aid organizations to identify charitable projects that are in most need of support from the company's million dollar fundraising campaign. 
"The generosity of our travel community has been inspiring. People clearly care about Nepal and the Nepalese people as much as we do," said James Thornton, Managing Director of Intrepid Travel.
"The question we've been asked most about Nepal is simply: how can I help? We've spoken to our local team in Nepal and concluded that the best thing we can do now is to visit the country. Tourism is Nepal's largest industry, but without visitors many Nepalese people will find it difficult to earn a living. As the largest guided tour operator in Nepal, we believe it is important for Intrepid to lead the way and support the country when it needs us most."
Intrepid Travel hopes that by donating profits from the 2015-16 season that travelers will be encouraged to return to Nepal.
"It means that every traveler, every trekker, every person that visits Nepal this year will be directly contributing to the rebuilding effort," says Thornton.
To find out more about Intrepid's trips to Nepal and share news about the fundraising campaign, visit www.intrepidtravel.com/return-nepal and use the hashtag #NepalNeedsYou. To make a donation to The Intrepid Foundation projects in Nepal, including directly to the Namaste Nepal appeal or KEEP's Porter Welfare project, visit www.theintrepidfoundation.org. Intrepid Travel covers all administration costs. 
Contributing members are responsible for the accuracy of content contributed to the Member News section of AdventureTravelNews.