The Intrepid Group, a global leader in sustainable local travel, is today opening its first office in Japan to meet a growing demand from increasingly adventurous travellers visiting the country.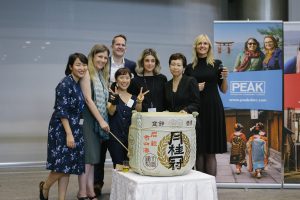 Inbound tourism to Japan has been growing rapidly, up 16.9%, and the country is expecting to see a further increase in travellers in the lead up to the 2020 Olympics and Paralympics. But a recent McKinsey report says that the industry needs to take travellers beyond Japan's three major cities to ensure sustainable tourism growth.
Intrepid Travel's itineraries in Japan include a trip to Ashaikawa's ice festival, cycling in the Noto Peninsula, a food tour to Koya-san, and a new trip to Southern Japan in 2018.
The multi-brand Intrepid Group, which began as Intrepid Travel in 1989, takes small groups travelling off-the-beaten track and supports the local communities they visit. The Australian-owned company is now a vertically-integrated global business that employs 1600 staff in 27 offices and takes 350,000 travellers to more than 100 countries each year.
The new Kyoto office, which is operated under the PEAK DMC brand, will be the base for 20 local staff and guides to take thousands of travellers throughout Japan's most iconic sites as well as lesser known destinations for Intrepid Travel, Peregrine Adventures, Geckos Adventures and other tour operator brands.
"We've seen a huge appetite for a more sustainable and experiential style of travel globally, across all ages and budgets," says the Intrepid Group's CEO James Thornton.
"One of the benefits of this style of travel is to bring tourism into smaller communities, which is increasingly important for preserving culture and natural beauty in a country like Japan where people are moving to into large cities."
The company, which is the world's largest provider of adventure travel experiences, reported a 69% increase in sales on its Intrepid Travel branded trips to Japan last year, including double the number of travellers on its Japan Family Adventure trips. The group's more up-market adventure travel brand, Peregrine Adventures, has also seen its Japan bookings increase by 38% this year and youth travel brand Geckos Adventures has seen 13% growth in the first year that it's taken travellers to the destination.
The company is currently recruiting for Japanese product and sales staff, as well as tour leaders to join its new Kyoto team.
"Kyoto was chosen as it is a cultural hub and heart of Japan and a much loved destination on Intrepid's trips," says Joanna Crisp, General Manager for the new Intrepid Group office in Japan.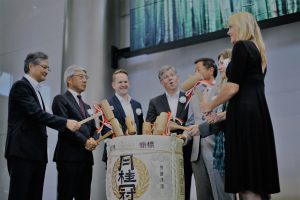 "Our tour leaders are passionate about travel and showcasing Japan. A great tour guide wants our travellers to experience all the things they love about their country – from showing traditional Japanese art and handicraft making, to making okonomiyaki, getting their hands dirty harvesting rice, or joining in a local festival. Any traveller or tour guide can use Google, but our award-winning leaders are the best in the world because the stories they tell connect travellers with all that is unique about the destinations they travel through."
This is the Intrepid Group's eighteenth destination management company in its global network, with new PEAK DMC companies due to open in Iceland due in November and in three Central America locations in January 2018. The expansion of the global network enables the Intrepid Group to further expand its product offering across the multi-brand business. PEAK DMC carries more than 350,000 travellers a year, and with a revenue of $123 million.
The new office will open with a ceremony by the Consul General of Australia (Osaka) Mr David Lawson, the Deputy Governor of Kyoto Prefecture Mr Takeharu Jofuku and other notable guests on 25 August 2017, with support from JETRO, KRP, Kyoto Prefecture and City Government, Austrade and Australian Government.
Contributing members are responsible for the accuracy of content contributed to the Member News section of AdventureTravelNews.