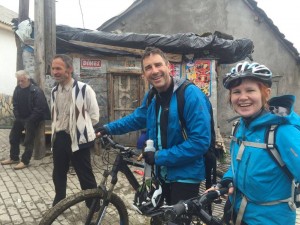 Award winning adventure travel industry leader, BikeHike Adventures, announces the launch of its new multi-sport trip to Macedonia. BikeHike's Founder/Director, Trish Sare describes Macedonia as "one of Europe's last undiscovered gems."
Sare notes that while Macedonia has many notable similarities to both Greece and Turkey, this emerging destination retains an unmatched level of authenticity. "Traditions, and lifestyles, that are being lost in most other European destinations can still be witnessed in Macedonia. In so many ways, it's a country untouched by the times while also being an adventure rich region. Yet, it has remained off the main radar of adventure travel."
"I'm thankful, though, to have discovered it! Macedonia's culture, remote villages and natural jewels are just waiting for the adventure-seeking traveler to explore them."
Sare just returned from personally leading BikeHike's inaugural tour to Macedonia in May 2016, and the tour now has monthly departures through the summer.
"I carefully crafted this adventure to reflect both high-energy biking, hiking and kayaking alongside experiencing Macedonia's unparalleled culture. This is an experience unlike anything you can find elsewhere in Europe," Sare reflects.
"Macedonia truly does not disappoint. Macedonia has all of the best ingredients for an adrenalin filled and culturally rich adventure vacation. The only complaint from travelers on our inaugural BikeHike trip was that there was too much great food. Macedonia is truly a fantastic culinary destination, the level of which absolutely surprised us all," Sare adds.
BikeHike's Macedonia: Multi-sport through the Balkans itinerary is meticulously curated to include the best of this country's active and cultural adventures. BikeHike's tour begins and ends in Skopje, the capital. During this highly immersive tour, cultural highlights include visits to medieval monasteries, timeworn bazaars and ancient fortresses and time enjoying tea with one of the area's last remaining monks. Active pursuits include kayaking through Matka Canyon's crystal clear waters, biking through Shar Planina, the largest mountain range in the Balkans, and hiking through Mavrovo National Park, a UNESCO heritage site.
The 8 day tour's cost starts at $2,699 US land only. Departures run throughout the summer months.
Contributing members are responsible for the accuracy of content contributed to the Member News section of AdventureTravelNews.