South America's leading adventure travel outfit educates 10 new guides with a 100-day learning experience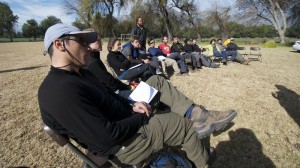 Santiago, CHILE – The beauty of nature, fascinating culture, authentic adventure, and the luxury of the essential are what draw travelers to discover the remote regions of South America with explora. But there is more to travel with explora. When travelers head out on explorations from explora lodges – Hotel Salto Chico in Patagonia; Hotel de Larache in the Atacama Desert; and Posada de Mike Rapu on Easter Island – their experience is in the hands of the best guides in the adventure travel business.
Guides are essential to the explora experience, in fact, the company has not only developed a rigorous recruitment process to pick and choose the best but has created the explora School of Guides to train new hires in explora's "art of travel" that keeps travelers coming back for more – whatever the destination.
The training graces guides with a thorough knowledge of the regions explora calls home, as well as the ability to aid travelers in choosing the most appropriate explorations for their interests and abilities. On Easter Island for instance, explora employs many guides that were born and raised on the remote landmass, making them direct heirs to the island's rich culture and traditions and real authorities on the most interesting ways to experience it.
Always putting safety first, all explora guides are prepared to wade into unforeseen opportunities and are adept at creating circumstances that enable travelers to make discoveries on their own. explora guides are also well aware of the beauty of silence: Though typically youthful and garrulous by nature, they respect moments of quiet contemplation so prized by many travelers.
School of Guides 2013
This year's School of Guides unfolded in mid-July at 5,000 feet in the Colunquén region of central valley of Chile about an hour from Santiago. Ten participants arrived to set up camp and spend six preliminary days learning what it takes to be an explora guide. It was a diverse group including an architect, a designer, an economist, a rugby player, a veterinarian, and a former Jesuit seminarian looking for a new calling after 14 years. The school was led by Guillermo Parra, explora's Explorations Manager; Jessica Dill, a former explora guide, now an Operations Assistant; Pedro Ibáñez Jr., former head guide of explora Patagonia; and Elisa Ibáñez, explora's Executive Director.
The training was thoroughgoing befitting the responsibility guides hold, with lessons in the history and philosophy of explora taught by company founder Pedro Ibáñez; the development of the tourism industry in Chile; Chilean history; oratory and guidance techniques; glaciology; geology; archeology; local flora and fauna; and an introduction to horses and the equestrian arts by Gaela Hourcq, explora's head horse trainer. There were also team-building experiences to build camaraderie and confidence created by Vertical, a Chile-based pioneer in the use of experiential learning as a resource for the development of organizations.
As any explora guide will tell you, the learning never stops. Indeed, for attendees of the 2013 School of Guides, it continued immediately following graduation with placement at an explora lodge and three months of in-field training before they can officially be called "explora guides." Come experience why the World Travel Awards – a.k.a., the Oscars of the tourism industry – recently recognized explora as South America's Leading Expedition Company, and why explora's guides are the best in the adventure business.
Contributing members are responsible for the accuracy of content contributed to the Member News section of AdventureTravelNews.