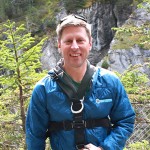 George Wendt's life story is wonderful: an 'ordinary' school teacher falls in love with rivers and ends up being a game changer. George co-founded OARS Rafting in 1969. He made it his job to save rivers by helping people fall in love with them. And for over 40 years he employed thousands of nature-loving adventurers and his business took hundreds of thousands of stressed people down rivers to teach them to love life and be in touch with themselves, nature and their families. Also, he managed to stay completely down to earth; George was truly salt of the earth.
He directly and deeply affected probably more than a thousand people (if I had to guess) in the industry, encouraging them to be better people just by living example. The Adventure Travel Trade Association, the 1200-member group that has become a strong community for adventure travel professionals over the years, is partly what it is because of George and his unwavering support in our earliest days. In 2004, we were considering launching the first Adventure Travel World Summit. He and I were at a travel show in Chicago and I ran the idea by him: "George, would you show up to an adventure travel industry conference and would you invite your friends to come?" We'd only known each other for about a year. I was a young entrepreneur and he was one of the founders of the industry I was moving into. "Yes, absolutely!" was his response and he came to nearly every Summit after that.
George's support of the ATTA and the industry was consistent and his engagement as a member of our organization was unwavering. He was impossibly friendly — a warm greeter of the new and a reliable friendly face to the regulars. The ATTA honored George in 2006 with a Lifetime Achievement Award, our way of highlighting those in our industry who went above the call of business duty and help heal the world through tourism.
At the age of 74, George moved from his home in Angel's Camp, California, to a new Angel's Camp. He died from complications caused by non-Hodgkin lymphoma on July 9, 2016, leaving an enormous hole in our community. It is hard to imagine George gone as he was a mentor, a guide and a hero to me. There's a ticket in his name for this year's Adventure Travel World Summit in Anchorage, reminding us of his unwavering commitment to the adventure travel community. "We save what we love, and we love what we know," he famously used to say. Knowing how many lives he impacted, it's certain his work saving what he loved will continue.