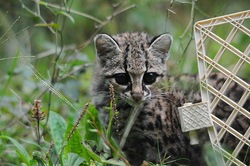 I'm writing to you about the chance to make even more of a difference in protecting the Sierra Gorda Biosphere Reserve.
Our donation partner, Global Giving, is offering to match donations tomorrow, Wednesday 12th February, enabling your donation to go so much further.
Right now, our Protecting Vital Habitat Appeal has raised nearly $1000 thanks to generous supporters like you. But we've still got a long way to go to secure the habitats and survival of threatened species seeking sanctuary in the Sierra Gorda.
Will you support us by making a donation to protect vital habitats?
The beautiful margay is just one of the animals this program is helping to protect. With their stunning furs, these creatures are especially at risk, often being hunted and sold for their coats by impoverished farmers and traditional landowners who have opportunities to earn a living.
Thanks to programs like ours, we're able to protect these animals – and their habitats – through engaging communities in alternative livelihoods, and offering them fair compensation for the preservation of their lands.
While such programs have proven their success, there's still so much to be done. Because for every hectare and species we're able to protect, there's another that also deserves our shelter. We've already identified the areas we need to protect, and the communities we're eager to support as part of this program. But we need the funds to make this possible.
That's why we're asking you to consider making a tax-deductible donation tomorrow, and help us continue to protect vital habitats while supporting communities in need.
Please be assured that any amount you can donate will make a real difference to the vital ecosystems and vulnerable families of the Sierra Gorda. And if you're able to donate as part of the Global Giving program, you'll be helping to achieve even more!
Global Giving's Bonus Day's Terms and Conditions
Matching will begin on Wednesday, February 12 at 9:00 AM EST and will end on Wednesday, February 12 at 11:59 PM EST, or when funds run out
There is $75,000 available in matching funds
Matching is applied at 30% up to $1,000 per donor per project (for example, a donation of $1,500 will receive a $300 match)
Only donations made by unique donors per project will be matched
Unique donors are determined using numerous criteria, including name, email address, credit card number, mailing address, and IP address. We are monitoring these and other parameters in our system to ensure that only unique, distinct donors are counted
The project that has the most unique donors on Bonus Day will receive an additional $1,000 from GlobalGiving
The project that raises the most funds on Bonus Day will receive an additional $1,000 from GlobalGiving
Projects must be approved and live on the GlobalGiving.org website by February 10, 2013 to be eligible
Only online donations (credit card or PayPal) are eligible for matching. Donations made by check or text-to-give are not eligible
Donations made on http://www.globalgiving.co.uk or any GlobalGiving corporate sites (including Nike, Eli Lilly, Global Action Atlas, etc) are NOT eligible for matching
Funds, such as the Girl Effect Fund and disaster funds are not eligible for matching
We encourage you to get donations in early, because matching funds will likely run out before the end of the day
Please note that GlobalGiving will monitor and review all donations made through this matching offer. GlobalGiving maintains the right to make a final decision on all matters concerning the allocation of matching funds
Please note that all donations are final. GlobalGiving cannot change the time, date, or status of a donation after it is processed for any reason.
Contributing members are responsible for the accuracy of content contributed to the Member News section of AdventureTravelNews.