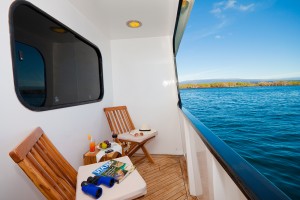 A short time ago, the M/C Cormorant, owned and operated by Haugan Cruises: Galapagos Cruises Redefined, received a minor face lift in environmental sustainability and aesthetics.  Now, having returned to the pristine waters of the Galapagos Islands, the Cormorant is now more than ever, ready to accommodate guests with more ecological and sustainable advancements.
In the month of September, 2013, while the Cormorant was in dry dock, many improvements were made.  Overall, the most significant are those that will enhance sustainability and provide more of an environmental impact.  One of these signficant changes was the installation of solar panels to provide more power to the navigation equipment of the yacht.
The solar panels will generate electricity from the sunlight with photovoltaic cells, which will then be regulated, controlled and stored in a special battery bank onboard the yacht.  The aim is to recharge the battery bank with at least 12 hours of back-up solar power until the next period of sun for the navigation systems.  Overall, the statistics prove that with the new solar power units, Cormorant will be saving about 4kw of energy per day and about 1460kw of energy per year.  This also means saving about 262.80 gallons of fuel per year, a significant cut in fuel costs and an admirable advancement in sustainable energy on Cormorant's part.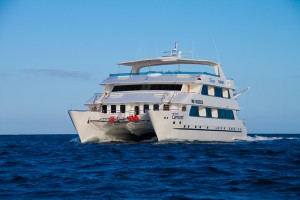 Additionally, the Cormorant has also added other services and features to the yacht.  Security cameras in all exterior areas have been installed for the benefit of both passenger and crew safety, remodeling has been completed on all frameworks and windows, hardwood teak floors have replaced the carpeted rooms of the suites and has been laid down in the dining room area.  A new ionizer has been put in for high quality water supply with a new dispenser in the restaurant area, a special cooler for 15 day passengers has been placed on the upper floor, and the restaurant has added a new freezer for more storage space.  All bathrooms received routine maintenance, adjustments to the anchoring system was completed, and mechanical regulations were made to minimize the sound of the generators by 70 percent.  Also, a supplementary new GPS system has been fitted and the crew's area was upgraded.  On the sun deck, 4 extra lounge chairs with padding were added to the Jacuzzi area for the passenger's convenience and comfort.
Furthermore, Cormorant was also awarded a Smart Voyager Certification in July for the great advancements and achievements in sustainable tourism.  Smart Voyager is an organization that was created in 1998 aiming to minimize the environmental impacts of tourism in Latin America.  Only thorough and precise environmental and social procedures that when completed, guarantee a decrease in environmental impacts that tourist operations generate, will Smart Voyager consider giving their prestigious certification.  After many months of hard work, Cormorant has finally reached one of many goals in protecting one of Earth's most delicate places, the Galapagos Islands.
With all of these new modifications and adjustments, Cormorant offers more of a distinguished and satisfying cruise incorporating the very best of Galapagos Catamaran design.  Not to mention already boasting interconnected cabins great for families and groups, a Jacuzzi, large sundeck and social areas, private balconies in each spacious stateroom, and excellent itineraries to only the best visitor sites with kayaks on board for passenger's use.
To find more information about Haugan Cruises'distinguished fleet of Cormorant and Ocean Spray, visit online at www.haugancruises.com.  If you would like more information sent to you, please feel free to send an email to [email protected]
Contributing members are responsible for the accuracy of content contributed to the Member News section of AdventureTravelNews.