PAN Parks welcomes the document 'Guidelines on Wilderness in Natura 2000', which is an EC guideline to the management of terrestrial wilderness and wild areas within the Natura 2000 Network.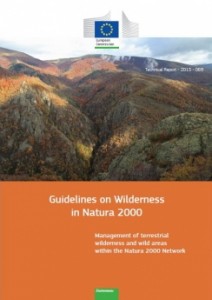 The purpose of this document is to guide the management of those areas in Natura 2000 where the objective of management is to preserve wilderness qualities and consequently the chosen management method is non-intervention or set aside and to present the current knowledge on the benefits of such an objective.
It also aims to clarify and correct misunderstandings about certain key aspects of the management of wilderness areas. It encompasses both non-intervention management and restoration measures in the Natura 2000 network because restoration is often needed in the initial phase of establishment of a non-intervention management regime. Restoration might also be needed in order to imitate natural disturbances that are missing for one or another other human induced reason.
The document is intended to guide site managers in using non-intervention and set aside methods and present ways to solve potentially emerging conflicts. The current knowledge about the benefits and feasibility of non-intervention and set aside management is discussed in the context of different parts of the EU. Best practice examples are presented, encompassing management of wilderness and restoration of natural processes, and establishing wilderness.
The document is designed for use by a multiple audience of national and local authorities, site managers and other practitioners who are involved in the planning and implementation of the Birds and Habitats Directives at both policy and field levels. It may also be of interest to other stakeholder groups such as NGOs and other international bodies involved in nature conservation.
To download the document, please click here